It was only a matter of time before people started getting hurt and dying as a result of Pokémon Go after someone got stabbed the other day, and we almost had our first contenders today when it was reported that two people fell off a cliff whilst playing the game.
Featured Image VIA 
The two intrepid Pokémon hunters were looking for Pokémon in Encinitas, California when they ignored warning signs about a cliff and jumped a fence near the sea. Unfortunately they didn't watch where they were going in their pursuit of those rare Pokémon and ended up plummeting off the edge.
Fire Marshall Anita Pupping said this: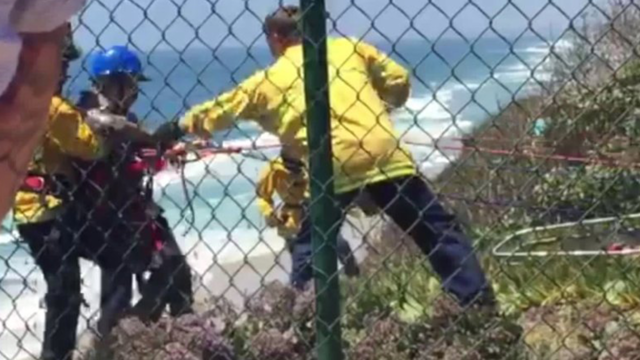 One of the trainers fell 50 feet and was found unconscious while his friend fell a staggering 90 feet but incredibly wasn't unconscious. One of them had consumed alcohol.

We had to extricate them with ropes and harnesses and such at great expense and effort.

We'd like people to stay clear of all the bluffs, overhangs and cliffs at all times, but especially when playing Pokémon Go.
Love the way she referred to him as a trainer. But in all seriousness, it is important to keep an eye on your surroundings when you're trying to catch Pokémon, otherwise you might end up having a nasty accident like these guys and that is no laughing matter.
It's only a matter of time until the first death is reported, especially when people are already using the app to lure them to locations to rob them. Be careful.