Me and my mates have often discussed trying to break a Guinness World Record, just so we could put "World Record holder" on our CV, that would be pretty ace. We're too lazy and lame to do anything hardcore though so we always try to think of a record we could break whilst chilling out.
Our best idea so far was to break the record for the longest game of Boules (otherwise known as Pétanque). The record was 24 hours and we figured we could kick the guts out of that. But we talked and laughed about it for a couple of years or so and now the record is 52 hours and we can't be arsed.
Matthew Menczyk is less lazy and a little more desperate to get himself a world record than us. He is also mental. Menczyk decided he was going to break the "Most Surgical Needle Piercings in One Session (8 hours timeframe)" record by 650 needles. What a horrible idea.
Menczyk is no stranger to pain though, he's covered in tattoos as you can see and even has his eye balls tattooed red: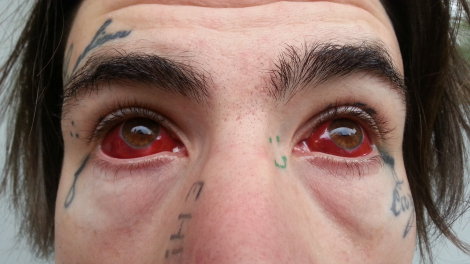 Generally people with their eyes tattooed are up to no good, but not in this case. Thankfully the pain and torment was all for a good cause, the money raised went to Directions Youth Services (DYS) who helps at risk youth in Vancouver, Canada.
Menzyk said:
I just wanted to cry because of the pain… I was biting things, punching things but I endured and it was all for a good cause.
Apparently it was the removal of the needles that was the worst part. At least Mr Menczyk's body will pretty much return to normal in the end, unlike the owner of this huge flesh tunnel in his cheek. He's stuck with that.
Check this out: