It's been a while since a true contender for the crown of worst ever tattoo has shown up but when you take a look at this one we're sure you'll agree that it was worth the wait.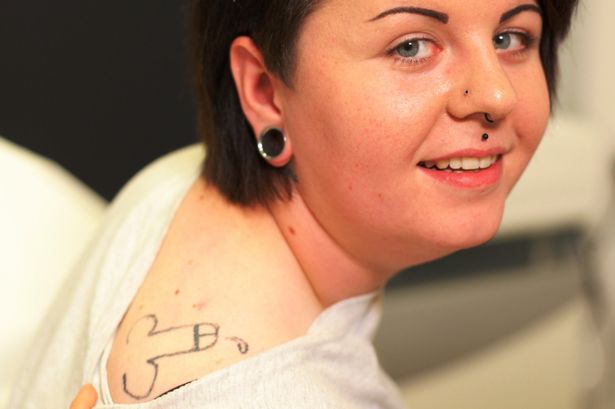 Jesus. What the hell was she thinking?
Well it turns out she wasn't really thinking at all. The girl is called Holly Aston and she picked up the tattoo when she was 17, back in her days as a wild child. She was completely trashed and let her friends draw it on her with a DIY tattoo gun that she had picked up on the internet. Sensible. Unfortunately when she woke up with very little recollection of the event, she instantly regretted the tattoo and then spent two years keeping it covered from her parents, even turning down a holiday to Lanzarote because she feared it would be exposed.
I had my first tattoo done by a qualified bloke who had turned part of his house into a studio.

I had a large picture done on my forearm of a comic book woman. It's supposed to be Storm from the X Men, although I just chose it out of a book because I thought it was cool. My family hated it but I still went on to get more.

It was so easy to buy a tattoo gun off the internet for about £50. You get the full kit of needles and ink and it's easy to operate, though they give you no instructions about keeping it sterile. We were very lucky not to get an infection or blood poisoning.

I had tattoo parties with my mates. We'd have some drinks and tattoo each other — it was stupid.

I let my mates draw whatever they wanted. I have the word 'Dyke' on my ankle, and then one drew the penis on my shoulder.

I knew what they were doing and didn't mind at the time. It was just a joke and I thought it was funny.

But then I woke up the next day, looked at it and thought 'Oh God, what have I done?'.

The joke was over and it really wasn't funny anymore.

I had to keep it covered up in the summer; if I went swimming I tried to cover it with plasters because I didn't want children seeing it.

I turned down family holidays because I was hiding it from my mum and dad. I thought they'd kill me.

I want to go to university this year and to be taken seriously without this silly tattoo, but I can't afford the thousands of pounds it would cost to remove it.
Sounds like a Grade A moron right? Unfortunately she is going to get it removed and it's going to be paid for as part of her appearance on Channel 4's 'Bodyshockers: Nips, Tucks and Tattoo' which is pretty disappointing. To be fair though she had to reveal it to the whole entire world to get that done, so it was probably worth it as whenever anybody Googles her those pictures will be the first to appear. Unlucky mate.