Terrible bit of news to round off the weekend — actor Paul Walker of Fast and Furious has died in a fiery car crash at 40 years of age.
According to TMZ:
The accident happened in Santa Clarita – north of Los Angeles – and according to multiple sources connected to Paul … the actor was in a Porsche when the driver somehow lost control and slammed into a post or a tree … and then the car burst into flames.
Several of our sources – some who are still at the scene of the accident – tell us Paul and another person in the car were killed. Law enforcement is still on the scene, and we're told the L.A. County Coroner's Office is on the way.
…
Sources close to Paul tell us he was in Santa Clarita for a car show to support the Philippines typhoon relief effort, and had been taking friends out for rides in his new Porsche GT. The accident happened during one of those test spins.
He wasn't the greatest actor but everyone enjoyed the Fast and Furious films, that's for sure. Running Scared was also a decent 'dumb' film that was largely overlooked. Outside of his films, Walker seemed like an absolute gent and was not your typical blown up celebrity.
A Uni exec once told me Paul Walker didn't care about money & lived in his car. No idea if it's true but I always liked him after that. RIP

– Peter Atencio (@Atencio) December 1, 2013
That was not a joke btw. This was in 2005, he said PW crashed with friends, slept in his Escalade, and went surfing every day. Sounded cool.

– Peter Atencio (@Atencio) December 1, 2013
Fuck you, irony.

– The Coquette (@coketweet) December 1, 2013
Brother, I will miss you very much. Heaven has gained a new angel. Rest in peace xxx

– Vin Diesel (@REAL_VinDiesel) December 1, 2013
And here are a couple pictures of the aftermath… damn: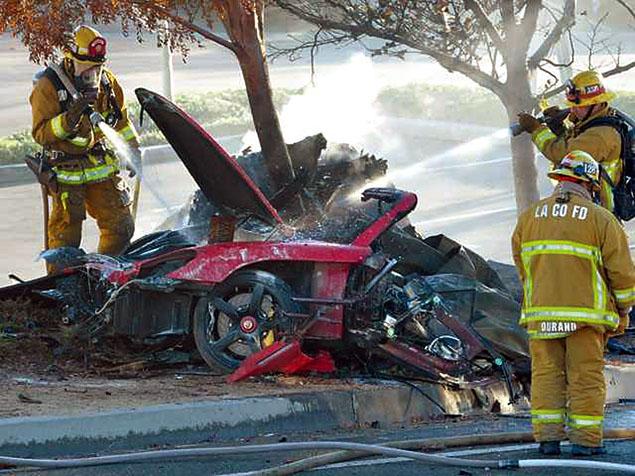 RIP Paul Walker and Roger Rodas.
☛ Up Next: Vin Diesel Sings 'Stay' By Rihanna