Looking back on the 90s, it's kind of hard to believe that something like Mr Blobby was so engrained in popular culture that it could score a number one hit, but I guess there was a lot less access to content back then so we just had to take what we were given.
Featured Image VIA
Clearly somebody looks back on that era with fondness though (who am I kidding? We all do, just maybe not the Mr Blobby part) as they were willing to part with just over £62,000 to make one of the original costumes their own after it was auctioned today on eBay. That's quite the mark up as it was originally put up for the much more reasonable price of £39, but after 170 bids it looks like the seller has has hit the jackpot.
I think that it's pretty incredible that someone wants to spend this amount of money on something so stupid, but when you see the condition the costume is in then it's even more ridiculous. Thankfully, the seller made no attempt to hide that it was a really run down outfit so whoever bought it probably knew that already, but maybe that makes the whole situation even more tragic?
Here's the original listing for the item: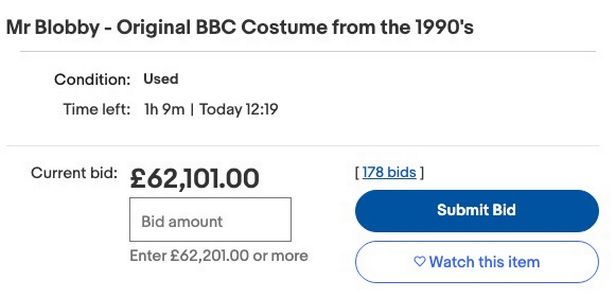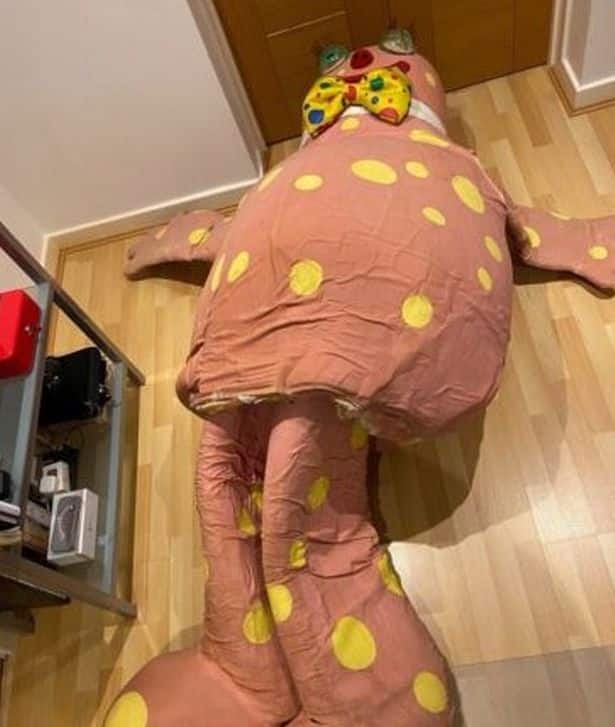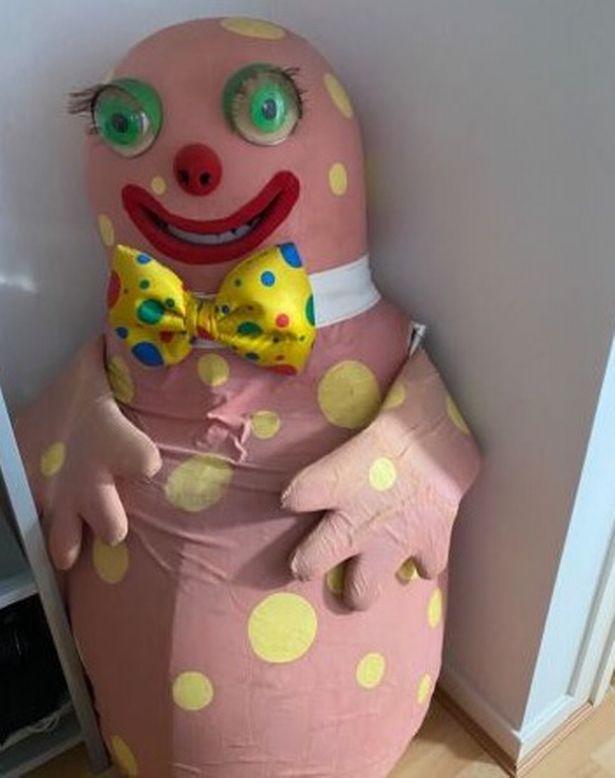 This costume is made of foam rubber covered with a rubber type material with a shoulder support. Consequently as it is now over 25 years old, there is the inevitable ageing to the foam and the rubberised coating.

This means it is less suitable to be worn as the unit is not very supple as it was in 1996.

In addition the two arms require re-attaching to the body, one of the plastic eyes is cracked and the bow tie will need securing.

Overall it's not too bad for its age – but there is visible creasing and dust to the covering and some areas require a drop of glue to make good.
The buyer also isn't allowed to wear it outside of their own house due to copyright laws and will have to sign a waiver before it's released to them agreeing to these conditions, so it sounds like kind of a useless purchase to be honest. It doesn't even come with a voicebox either. Hope that whoever bought it can afford it and didn't take out a loan or anything to get it because it really does sound like a waste of time.
What are they even going to do with it? Dress up in their manky Mr Blobby costume and 'entertain' their friends in their house? No thanks. Serious incel/serial killer vibes.
For more of the same, check out Mr Blobby's abandoned house. A notorious illegal raving spot in the 00s.