If there's one thing that you couldn't make up then it would be that some idiot would actually perform a drive by shooting at the funeral of a rapper who was shot dead and whose death has led to the whole community calling for stronger gun control laws, but it's 2019 and this is exactly what happened at Nipsey Hussle's funeral yesterday.
Images VIA
Thousands of people lined the streets of LA to pay tribute to the fallen rapper but the event was suitably marred by some douchebags driving past the procession and firing into the crown, killing one person and injuring three others. Police chief Michel Moore said the following on his Twitter page:
In the midst of this procession we have a multi-4 Shooting at 103 St and Main St. Victims are 3 Male Blacks and 1 Female Black – ages from 30-50 years old.

Suspects in gray Hyundai fired on the victims.

Tragically one is deceased. We must stop this senseless violence.

Today 10 thousand gathered in tribute 2 Nipsey Hussle.

LAPD showed the world that the men and women of this Department are compassionate and without peer.

They worked seamlessly with our community advocates to keep the peace.

I'm grateful.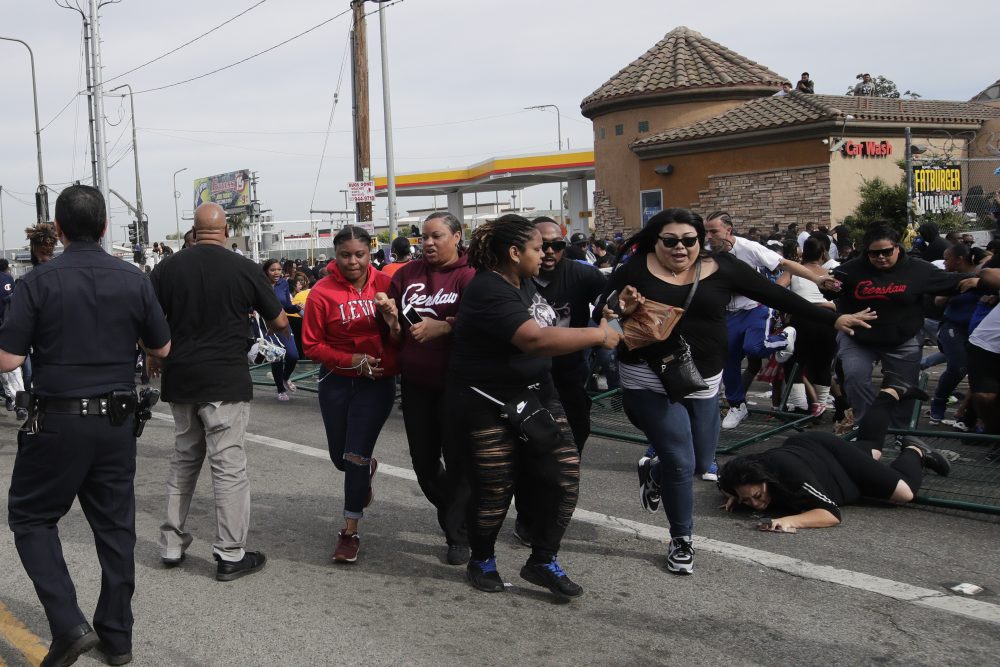 The whole thing sounds like a mess. I feel awful for those who wanted to gather to celebrate Nipsey's life but ended up dead because some morons thought it would be a good idea to shoot a crowd attending a funeral. Honestly when does this stuff stop?
I would say that I hope Nipsey's death means something and it does lead to tougher gun control laws, but when people are shooting each other up at his funeral it doesn't really seem like there's any point really does there? Seriously makes you question why anyone even bothers. RIP Nipsey.
For more gun laws, check out this Snapchat footage from the Florida school shootings. Like that isn't enough to do something about gun laws in that dumb country.