Your wedding is supposed to be this massive party where everyone gets smashed and you can forget about work and drama and everything else going on and just toast to a happy future with your significant other.
Featured Image VIA
Not if you're Man City player Oleksandr Zinchenko and his absolute babe of a wife Vlada Sedan, however. Vlada happens to be a football reporter and following Man City's exit from the Champions League the other week, she said the following on her YouTube channel:
To put it mildly, and in order not to swear, this is completely Guardiola's fault.

At such a crucial moment, making such an experimental tactic for Man City is a bummer. I have no right to criticise, but why play three central defenders when the players themselves take their heads. I simply have no words, because to have such a line-up… look what players play at Man City, what a bench.

Literally few clubs in the world can boast such reserves.
Whoops – way to put your hubby in an awkward spot with his manager. I mean it's probably not ideal to straight up say your husband's manager is the reason Man City got knocked out of the Champions League. In fact it's so not ideal that Zinchenko spent his wedding day writing up an apology on his iPhone Notes and shared it onto Instagram: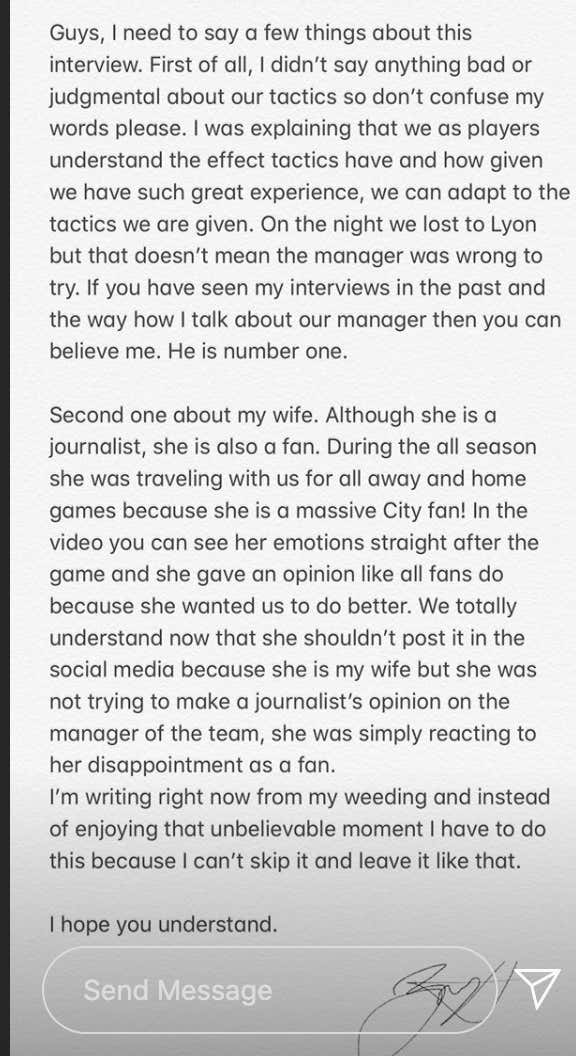 The funny part is that Vlada makes a good point. Pep's formation change made no sense and probably contributed to costing them the game. She was probably more pissed about the fact that Oleksandr didn't get to play though. Must be pretty awesome having your wife as your #1 fan, especially when she looks like this:
Respect!
For a look at how Neymar and his PSG teammates recently bullied his girlfriend's ex so badly that he deleted his Instagram account, click HERE. What a dick!