Young teenage One Direction fans are among the most dangerous and unstable people on Earth. They have seriously messed up outlooks on life that revolve around how they can get the members of the most famous boy band in the world to interact with them. Literally nothing else in this world matters.
☛ Read Next: One Direction Fans Go Psycho On GQ Magazine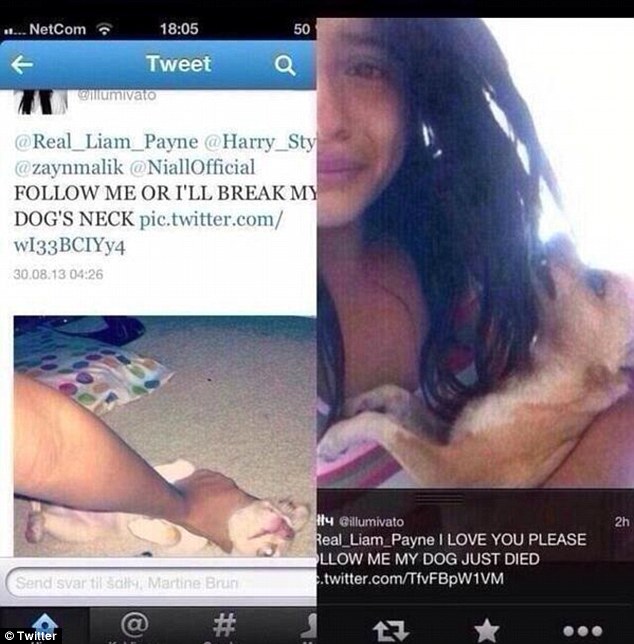 Some of these teenage girls believe it's possible that the One Direction lads will one day somehow forget that they're gay and fall in love with them over Twitter, sweeping them away into a lifestyle of candlelit dinners, private planes and love songs.
This particular girl allegedly killed her pet Chihuahua when the One D boys didn't respond to her tweets. She had sent them a message from her now-deleted @illumivato account two weeks ago saying: "Follow me or I'll break my dog's neck", with an attached image of her holding her dog down by its throat.
A few days letter when she still hadn't received a reply or follow she sent member Liam Payne a message saying "I love you. Follow me. My dog has just died", along with a picture of her crying as she cradled her dead dog.
☛ Read Next: One Direction Fan Has Mental Episode After Harry Styles Follows Her On Twitter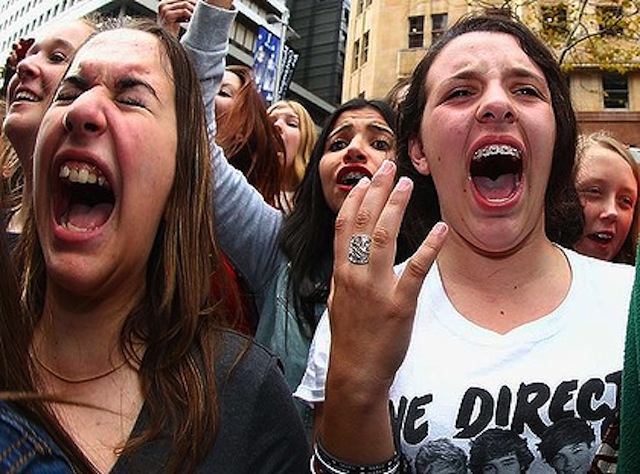 Obviously some believe this story is a hoax. It might be, but it doesn't really change the fact that this girl is insane and there's loads of others out there just like her.
Imagine if these girls focused all their obsessive, passionate energy towards something constructive…
☛ Read Next: Hilarious One Direction Poster In Cardiff