I don't think anyone has ever travelled to London on holiday and thought that they needed more fried chicken on their trip – there is definitely ample amounts of the stuff all over the city – but in case there are some people out there that feel this way KFC have decided to open up their own fried chicken themed hotel in the capital.
Images VIA
The pop up hotel suite is located in Shoreditch (of course) and features a private cinema, your own personal 'chick in' clerk and a 'press for chicken' button which will send in some delicious fried chicken whenever you desire it. There's also an arcade game and chicken themed wallpaper and bedding. For some reason, you'll be picked up in a black Cadillac and driven to the suite as well, although I'm not quite entirely sure what that has to do with anything.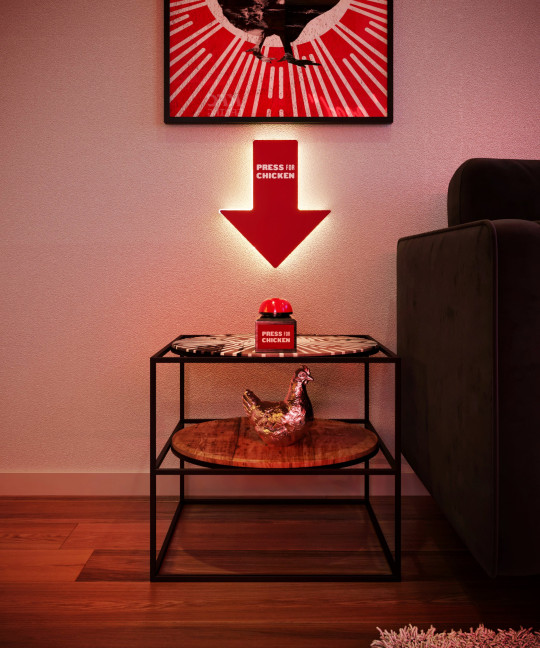 Anyway, the suite will only be available for 11 days from August 18th to 29th before it shuts up shop and you'll only be able to book a night there from 11am on August 11th and the price is £111 a night, with all proceeds going to the KFC Foundation that supports young people in the UK. All the elevens are a sneaky reference to the 11 herbs and spices that go into KFC's famous fried chicken
To be fair, £111 a night for a suite in Shoreditch isn't a bad price and it MIGHT be kind of cool to say that you were only one of a possible 11 people ever to stay at the KFC suite, but I don't think that I'm going to be setting my alarm for 11am on the 11th to try and secure myself a room. Good luck to those that give it a shot though. Could be the best night of your life but it kinda just seems like a silly gimmick to me.
For more of the same, check out when KFC created a next generation KFConsole. That was another weird flex too.