I often write about the best jobs ever in these pages, but this time I really think I've found it with the news that someone is willing to pay you £500 to taste test pigs in blankets. Oh boy.
Images VIA
The job opportunity comes from The Oast House in Manchester who are looking to taste test their delicious sausages wrapped in bacon this Christmas. To be in with a shot at the job – which you can also bring a friend along to – all you have to do is email them in your best Christmas story, and the one they think is the greatest will be handed the job. Easy.
Here's what Mark – the Development Chef at Oast House – had to say about the job: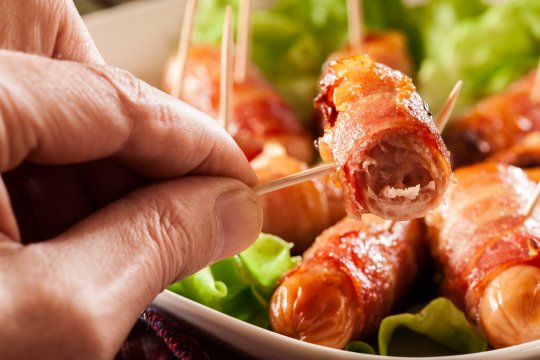 Pigs in blankets are the talk of the town this Christmas and are undoubtedly the trending food item of the season. That said, the pressure is on to ensure we're serving up the best pigs in blankets and Christmas nibbles in the city.

We're wanting to play around with ingredients and flavours – and in order to pin down the perfect recipes, we need someone to come in and taste test to ensure our guests have the best Christmas nibbles possible!

We're looking for a festive foodie to visit The Oast House and give the team and I some honest feedback, face-to-face.

The applicant with the story that makes us laugh or cry the most will be given the chance to join us at the tasting session.
Sounds good, although weirdly you have up until December 16th to apply for the position, which doesn't give the restaurant much time to taste test their pigs in blankets and get them out there for Christmas. I'm not gonna complain about the opportunity to get paid £500 to eat them though so they can do what they want, it's all good.
For more of the same, check out this pigs in blankets hot dog. Mmmmm mmmmm.