Due to the all encompassing burger fetish that the world seems to be experiencing at the moment, there was an inevitability that there would be a hell of a lot of Christmas burgers appearing this festive season. The Brass Pig in Southport, Merseyside has gone one better though and decided to come up with a pig in blanket hot dog as their signature Christmas dish. Everyone knows that pigs in blankets are the best things about Christmas so it's really kind of surprising that this has taken so long for somebody to think of eh?
It comes pretty much how you would expect it to come – a seven inch hot dog wrapped in bacon with a hell of a lot of stuffing in the roll, and cranberry sauce and turkey gravy on top of it. Sounds delicious right? Just take a look at it below.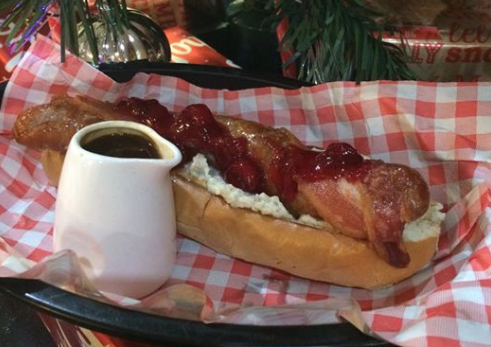 Eddy Weights, who created the hot dog and owns The Brass Pig explained the concept:
It probably is the ultimate pig in a blanket with a festive twist — what more could anyone ask for?
I don't really see what he's getting at there because pigs in blankets don't really need a festive twist because they're already inherently festive but I'm just thankful he's made one.
If Merseyside is too far for you to travel though, there's a remarkably similar dish for sale at Meat Mission in London, although this also features some turkey inside the hot dog and it's two 3 inch pigs in blankets rather than one massive one. It's still delicious though but very, very messy to eat.