Nike Inc. executive Ann Hebert has abruptly left the company following a Bloomberg report about her son operating a business buying and reselling trainers and using a credit card in her name.
Featured Image VIA
Hebert, who served as vice president and general manager of North America, resigned effective immediately. She had been in the role since last June, overseeing Nike's sales, marketing and merchandising in the region.
Her son Joe, a uni dropout, was making a living as a sneaker reseller known as 'West Coast Joe'. He started reselling streetwear in high school and was eventually flipping hundreds of thousands of dollars worth of shoes each month.
Foolishly, he had used a credit card in his mum's name to purchase Nike shoes for his resell business, West Coast Streetwear. The report alleges he spent more than $100,000 on the card to buy limited-edition shoes and flip them for a profit.
According to Bloomberg, business has been booming for Joe during the pandemic. This wasn't just a few trainers here and there, this guy hit the absolute motherload (so to speak):
Two weeks ago, Joe Hebert was busy upgrading his sneaker resale business to an even larger warehouse space. Now he's gone silent, offering no comment on my @bw cover story or his mom's abrupt resignation after 25 years at Nike. https://t.co/hLEnxcXgK3 pic.twitter.com/7C5uDmKE9M

— Joshua Hunt (@viajoshhunt) March 1, 2021
nah ya boy was getting busy with momma's card pic.twitter.com/Yzniz5SPIo

— Desus Nice (@desusnice) March 1, 2021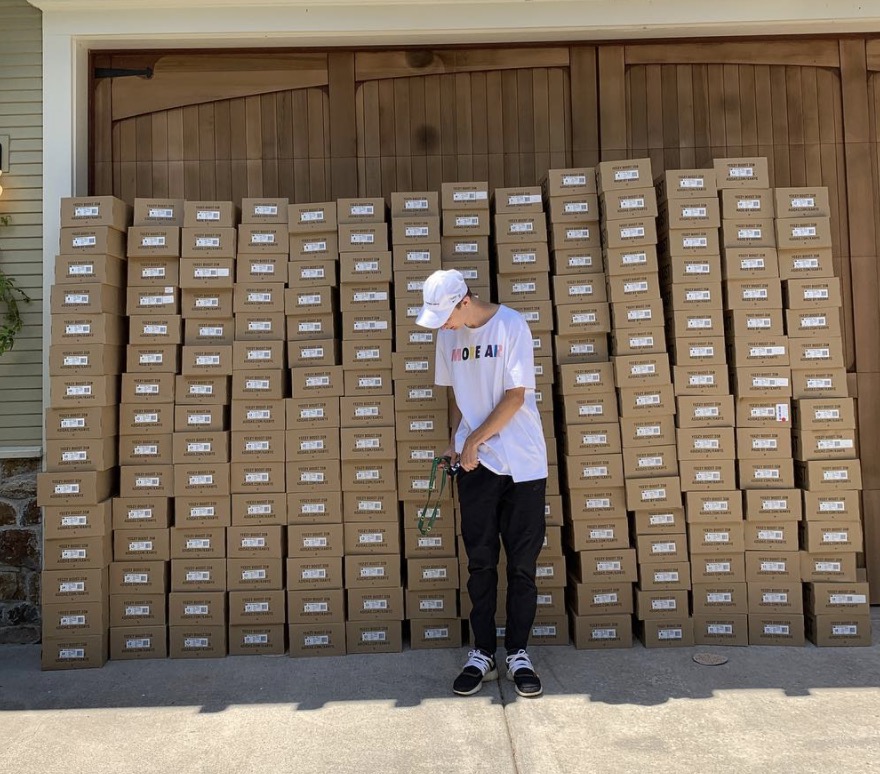 His mum may very well kill him for this. Losing a high profile, well paying job with Nike because your son was buying and reselling hundreds of thousands worth of merchandise from your employer using your credit card and company discount? How is she ever gonna forgive him?
Then again, maybe mama was in on it, in which case she's even stupider than he is. I mean fair play to the kid for his entrepreneurial spirit and all and actually pulling off a successful operation for a while, but at the end of the day he's just a rich kid who used his mum's status to exploit a loophole in the system and make $$$ off sneakerheads happy to pay premium for hard-to-source shoes. Without even spending a penny of his own money, no less. It was all on his mum's credit card!
Maybe if West Coast Joe had kept a low profile and not done interviews about his booming sneaker resale business, he could have carried on getting away with this for years to come. OK I'm sure someone would have figured out what he was up to sooner or later, but it's just a bit daft that he essentially brought himself down and his mum along with him.
The good news for Joe is that he's only 19 and so like all dumbass 19 year olds out there I'm sure he'll learn from his mistake and put it behind him. Just a shame he had to ruin his mum's career in the process. No more free Nikes for you, young man!
For the time Nike caught backlash for releasing a woman's shoe shaped like an iron, click HERE. Lol.