Entertainment news company The Wrap made a pretty big blunder yesterday after they posted a dick pic on Twitter for a story about hiring women and minority groups in television.
Images VIA 
The story was regarding a recently passed legislation in New York whereby $5 million in tax incentives is being provided to hire more women and minorities in writing and directing TV. To promote the story, they included a screen grab from a recent episode of Lena Dunham's 'Girls'.
They were clearly on the right lines – the show is about a struggling female writer in New York – but unfortunately they couldn't have chosen a worse shot. Watchers of the show will recognise that this is the moment Lena's character Hannah is grasping some dude's dick: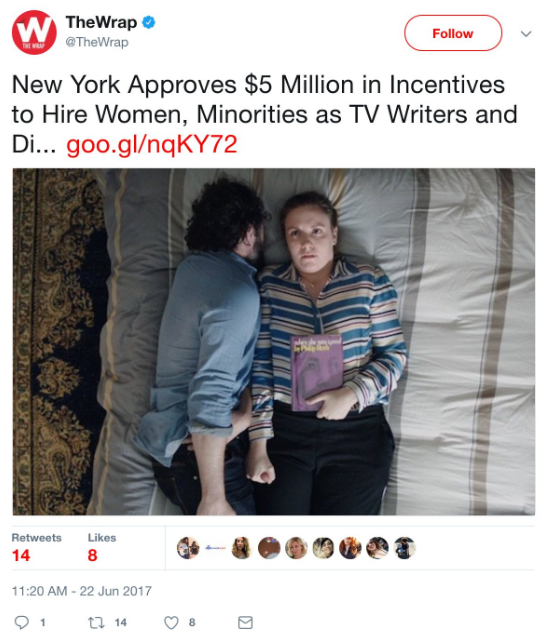 Whoops. The tweet allegedly went live for a few hours before anyone from The Wrap noticed the dick pic and it was swiftly taken down, but not before another website had retweeted it.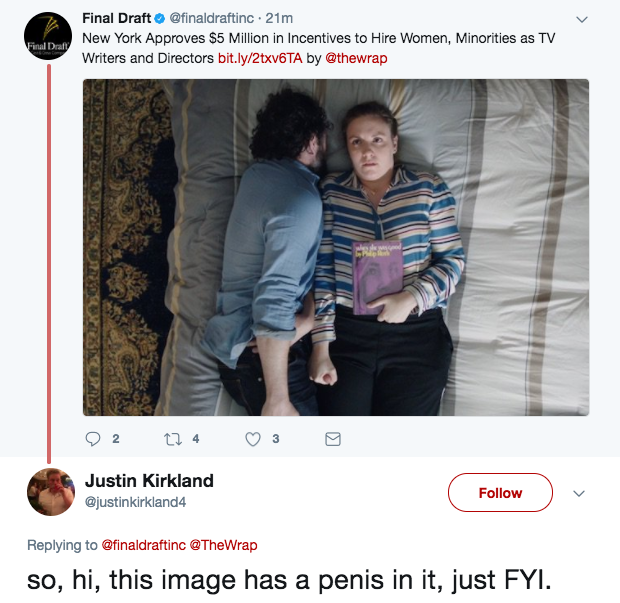 To be fair, it's not the worst dick pic they could've used. It's more funny because whoever chose the screengrab has clearly never seen the show, because anyone who had would know what an awkward and NSFW moment that was on 'Girls'.
Still, it's nowhere near as bad as the time a news website accidentally used a headline that read 'Kill All The Jews'. The editor tried to blame it on being hungover.