Usually when you think of superfoods you think of stuff like avocados, blueberries and broccoli – you know stuff that is pretty nice to eat but not exactly something you're absolutely going to buzz off eating like a big juicy burger or one of these amazing sandwiches – but that might be about to change with the introduction of a new superfood. That's because it's a staple of the traditional English fry up.
No, it's not bacon unfortunately but instead it's black pudding, which is probably going to piss off a few people reading this because it's kind of gross. If you don't know what black pudding is, it's traditionally made using pig blood and oatmeal. I suppose that's all you need to know to turn you off.
BUT, it's actually now been determined that it's really good for you. This is because it's actually full of protein, calcium and potassium and nearly carb free. It's also full of anaemia-preventing iron, which is lacking greatly in modern diets.
Featured Image VIA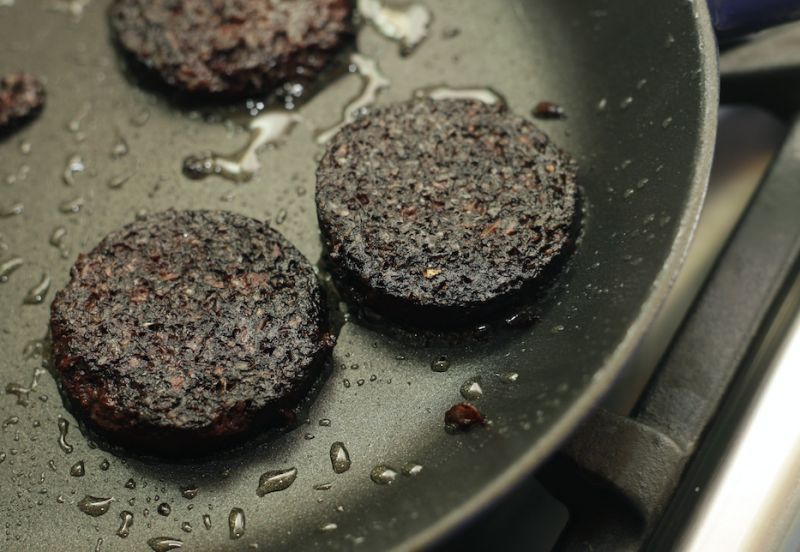 Image VIA 
However, its emergence has come as a surprise to many including Darren Beale from MuscleFood.com:
Some of the foods have been on the up for a while like avocado oil and maca root, but others like mushrooms and black pudding have been a total surprise to us.

It's great to have this new research available to find out the hidden qualities in food and we can't wait to see how these new trends take off.
It's very exciting times, that's for sure, with one Scottish butcher – Charles Macleod in Stornoway – already being inundated with orders:
The shop has just opened again.

I opened the mail orders and we had about 40 black pudding mail orders to go out today.

That's a lot for the first day open in January.
No kidding. The only problem with it really is that black pudding is kinda gross. And surely you're not going to eat black pudding just on its own or with an avocado or something? Surely its only place is on a fry up which is really unhealthy and probably negates any good that it actually does for you?!
Maybe it's slightly healthier if you have it in breakfast sushi rolls, but not much.