We revealed a whole list of crimes that Nelson Mandela's fake signer Thamsanqa Jantjie had been charged with on Friday and these included rape, murder, theft and arson but even though he had been charged with these he had never been convicted of them as he was declared 'mentally unfit' to stand trial. Again, this clearly made him the perfect candidate to do sign language at Nelson Mandela's funeral.
However, the exact details of his crimes hadn't been revealed until the weekend when he admitted that he was one of several people who had burned two accused thieves to death in 2003 by setting fire to tyres that were placed around their necks. In South Africa this is known as 'necklacing'. Brutal. Instead of standing trial for the incident, he was institutionalised for a year and then released. Judging by his schizophrenic attack during Nelson Mandela's memorial service it seemed like his time inside clearly helped a lot. Not.
Of the burning attack, Jantjie offered the following casual statement which literally offers no real insight into his involvement: 'It was a community thing, what you call mob justice, and I was also there'. In fact, you might as well say this statement is about as useful as his sign language.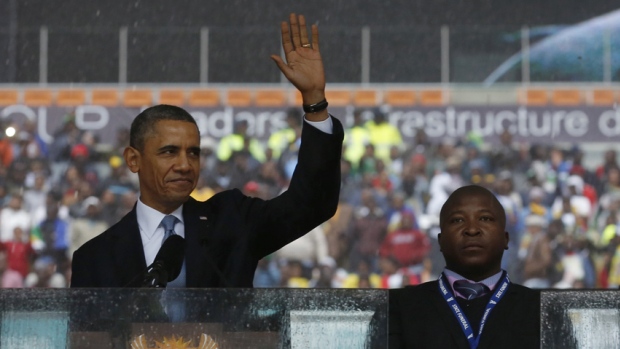 There's currently a massive investigation into how the hell South African authorities could have hired someone as ill equipped as Jantjie to sign at Nelson Mandela's funeral which so far doesn't seem to have found any answers and only found a lot of dead ends. Jantjie claimed that he was hired for the event by a freelance signing company that had used him for several events in the past, but the address he gave for the company yielded a completely different company that had nothing to do with sign language. The company that the South African government claimed to have used to hire him also seems to have completely vanished.
Adding further mystery to this whole story is the fact that the schools where Janjtie claims to have learned sign language don't seem to exist either. He claimed that it was called Komani and existed in Eastern Cape Province but there doesn't seem to be any record of this ever having existed ever. Advocates in the world of sign language say there has never been a school in the Eastern Cape either. The Star of Johannesburg – the local newspaper of the city – claimed that he studied at the 'University of Tecturers' in Britain, but a deaf British charity says they've never heard of the university and it doesn't exist.
So what the hell is this guy's deal? Is he just the biggest blagger in history? It certainly seems that way, but until the results of this investigation come out I doubt that anyone will be able to predict where this story goes, as it seems to get more and more bizarre with every day that goes by.
☛ More Burning: Former WWE Superstar Saves Mother From Burning House By Uprooting A Tree