A family in the leafy London suburb of Cheam, Sutton, were shocked to receive a letter from a neighbour telling them to remove a 'Black Lives Matter' sign because 'it doesn't reflect well on the area'.
Featured Image VIA
Aj Shehata and his family couldn't believe it when the disgruntled letter arrived – complete with a photo of their house and the 'offending' sign.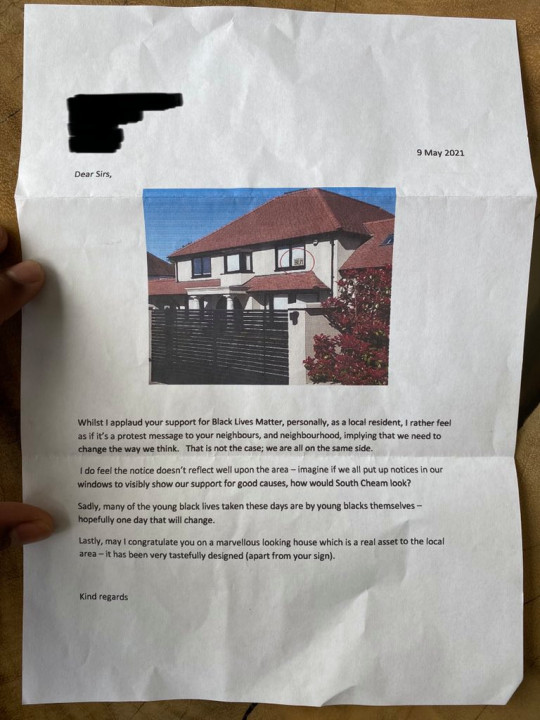 The letter reads:
Whilst I applaud your support for Black Lives Matter, personally, as a local resident, I rather feel as if it's a protest message to your neighbours and neighborhood, implying that we need to change the way we think.

That is not the case; we are all on the same side.

I do feel the notice does not reflect well upon the area – imagine if we all put up notices in our windows to visibly show our support for good causes? How would South Cheam look?

Sadly, many of the young black lives taken these days are by young blacks themselves – hopefully one day that will change.

Lastly, may I congratulate you on a marvellous looking house which is a real asset to the local area – it has been very tastefully designed (apart from your sign).
Lol – surprised they didn't sign it 'Disgusted In Sutton'.
24-year-old Aj, whose parents were born in Sudan, told the Metro:
We received the letter in our postbox – I believe posted directly by whoever wrote the letter, as there was no stamp – dated May 9th,' Aj tells us.

My father opened it yesterday (May 13th) and then sent the picture of the letter straight to our family group chat.

To receive a passive aggressive letter with some seriously wrong racial undertones, a picture of our house with the BLM sign circled, was not just upsetting but also quite scary.

Everyone in the house is shocked, however, this has just spurred us on to do more for the movement and to not back down.
Welp, I guess that means more signs are going up – with the added bonus of pissing off their neighbours even more. I mean claiming to applaud this family's support for Black Lives Matter (the movement, not the organisation) and by implication claiming to support it yourself, but also asking them to take down the one sign on their property just seems a tad bit insincere. Not to mention the unnecessary comment about most young black lives being taken by other young black men – something which is more to do with the size of the black demographic in poverty rather than some inherent trait in young black men themselves.
How long before the anonymous neighbour puts up an 'All Lives Matter' sign on their property? Which they'd be well within their rights to do as well, of course. You don't have to be a fan of sticking political materials on windows to respect the fact that people can do what they want on their property.
To watch a BLM protester armed with a knife get knocked out cold after being hit with a helmet, click HERE. That just ain't the way to protest.