I think the #1 thing that anyone who watched Breaking Bad believes is true is that you can melt bodies in a plastic bin using hydrofluoric acid.
Featured Image VIA
In reality what happens is that you just end up with a body soaked in acid sitting in your garage waiting for someone to find, which is what happened in this wild story out of Rochester, Kent.
19-year-old George Knights invited drug dealer Stephen Chapman, 38,  round his home to buy £2,500 of coke from him last year, only to end up stabbing him in the head so hard that the knife went 16cm deep into his skull.
As per Metro, Knights then took one of his neighbour's bins and left Chapman's body in his conservatory while he went to a party. Casual.
He later told a jury at Maidstone Crown Court:
I watched Breaking Bad and in my madness at that point I thought that the only way I could get rid of him was to do what they did in that film.

I looked up on my computer what acid it was […] and what kind of plastic you have to put it in.

I don't know what I was thinking at this point. My mind was just everywhere.

Obviously I wasn't thinking straight at all. I didn't put a gas mask on or anything like that.

I got acid which was already in the house and poured it on top in the bin until I couldn't breathe anymore.

'Then I shut the conservatory doors and I left. I think I went upstairs and I was just crying.

I wish I had called the police […] but at that moment in time I decided to put my family first.
Knights was such a diehard Breaking Bad fan that he had also tried making meth at his home and used Walter White as a 'memorable name' password reminder for his online DVLA account.
Knights also had this tattoo done on his neck 'shortly' before the killing – a dagger entwined with a snake…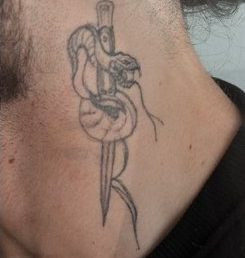 He was found guilty after prosecutor Caroline Carberry QC told the court the murder had been part of a premeditated plan to 'rob, hurt or even kill' Mr Chapman at a time when the teenager was leading a 'bizarre, out of control existence'.
Chapman was found two days after his murder with the knife – Knights' father's military dagger – still in his head. His desperate family had broken into Knights' home trying to find him.
Knights actually called the police at the time to report a break-in:
When police checked Knights' phone they found pictures of Chapman's body in the bin, as well as a video filmed at a party later on in which he said: 'I'll play this to all my new friends in jail.'
Knights tested positive on his arrest for ecstasy, amphetamine, cocaine, prescription medication Zanax and diazepam, and a cocktail of steroids.
What can you say really? Just a senseless loss of life that has resulted in two families being left without their fathers (Chapman had 5 kids, Knights 3). Knights claims he was acting in self-defence but all the evidence seems to point to it being a premeditated attack, in which case this idiot really thought he could invite a known drug dealer to his flat, stab him to death and then just dissolve the body in acid and get on with life. All over £2,500 of cocaine. I guess that's what caning your brain with the stuff for so many years can do to you.
To read about the Alabama man who keeps an 'attack squirrel' locked up and high on meth, click HERE. Effective.