I'll be honest – the only reason I'm blogging this story is because the featured image is laugh out loud funny. I mean that is a 10/10 compo face if I've ever seen one.
Featured Image VIA
It's also pretty amusing that someone would go to the papers with this story in the first place, slating Deliveroo after they failed to deliver a KFC meal as a birthday surprise.
38-year-old Dawn Bailey told Stoke-on-Trent Live that a mix-up when entering her address on the Deliveroo website left her hungry and £28.29 out of pocket.
She had wanted to treat daugher Erica, 11, to a fried chicken feast on her birthday, along with her sisters Tinisha-Jade, 12, 2-year-old Alysia-Rose and their grandmother, Angela, 61.
Having accidentally entered both her current and former address, the delivery driver was sent to the latter. Whoops.
Dawn wasn't happy:
I was going into hospital the next day, which was Erica's birthday, so we decided to have her treat the night before and she wanted KFC.

I put this address in but my phone is linked to my old address… so it somehow changed to that one, but left both house numbers.

The delivery driver rang me because he had gone to [previous address]. I realised what had happened and explained to him I was really sorry. I asked if he could still deliver it – I offered to pay extra for his fuel and said if it was cold it would be my fault, but he said he couldn't and I wouldn't be getting my payment back.

I don't understand why no one called to check the address when there were two house numbers on the order – there was obviously some mistake.

I was really angry. The only reason for getting a takeaway was for my daughter's birthday. I eventually ended up going on Just Eat and ordering pizza, and spending another £20.
Dawn will never use Deliveroo again:
I was fuming. It's daylight robbery. It was my technical error so if it turned up late and cold I didn't mind that, but I should still get the food.

I usually use Just Eat or Foodhub and I've never had this problem with them. It was the first time and the last time I will use Deliveroo.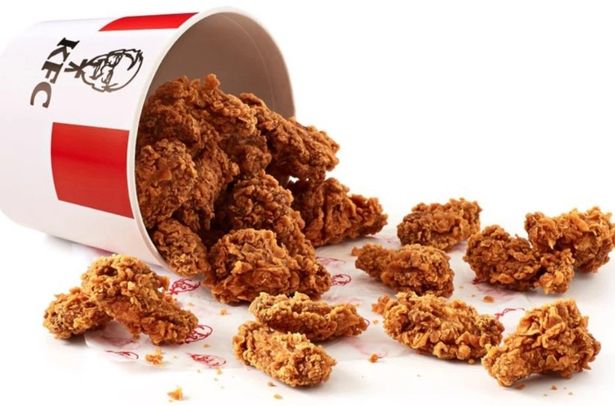 A spokesman for Deliveroo says that Dawn has now been issued with a refund, so on top of whatever she was paid for her story, it's not bad going really is it? She actually comes away from the whole ordeal a few quid up. Although I guess no amount of remuneration can truly make up for her traumatic experience.
As for Deliveroo, I'm sure they won't dare fail to deliver someone's KFC birthday feast ever again. Good work from Dawn for exposing the fast food company's practice of being completely confused by two different addresses and delivering to the wrong one. Unforgivable.
P.S. Always knew Deliveroo were the bad boys of the fast food delivery game – here's some recent footage of them ganging up to beat up another motorist following a crash in London.