Muhammad Ali's daughter says her dad is rooting for Manny Pacquiao to beat the undefeated Floyd Mayweather in their upcoming fight in Las Vegas on May 2nd.
Featured Image VIA
Rasheda Ali told TMZ Sports:
My dad is Team Pacquiao all the way. My dad really likes Manny. He's a huge fan of his. He knows Manny's a great fighter but it's more about what he does outside the ring. He's such a charitable person. My dad stood for things. Mayweather … I don't think there's a comparison.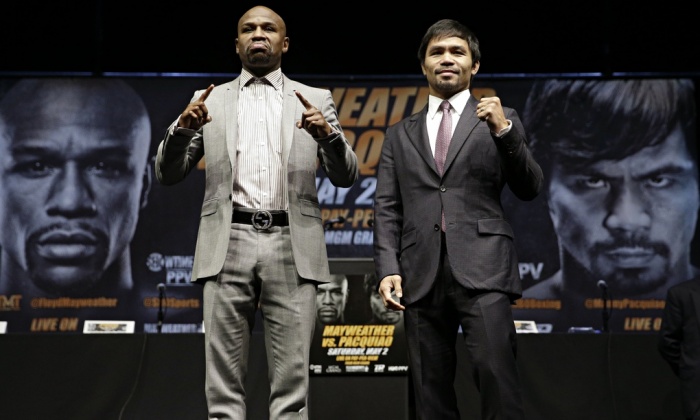 Image VIA
There's no denying Floyd Mayweather comes across like an absolute dick but he backs up what he says in the ring so it's tough to get too mad at him. Obviously rooting for Manny Pacquiao is one thing (I think we all are), but who does Muhammad Ali think will actually win? Have to say all signs point to Mayweather murdering Pacquiao but if Muhammad Ali disagreed with that it might change everything. Don't think I could bring myself to disagree with the most legendary fighter in the world about anything to do with boxing.
P.S. Is Rasheda Ali trying to say that Mayweather stands for nothing? Come on — he stands for money and reminding everyone that he has money. That's standing for something, isn't it?