Fish and chips is one of my favourite takeaway meals, but I often find that even though prices have gone up in recent years you're not actually getting anywhere near as much food as you used to get back in the day.
Images VIA
Trust Morrisons to sort that out though. The supermarket chain has been well known in the past year or so for coming out with some absolute bargains when it comes to food and they've done it again with the introduction of a monster size piece of haddock that can be afforded in their cafes.
The piece of fish weighs in at 350g – double the size of their regular £5.50 portion – and comes together with a double portion of chips and peas and a wedge of lemon. It's only going to cost you £8.50 as well, which is a hell of a bargain when you think about how much you're going to get for it.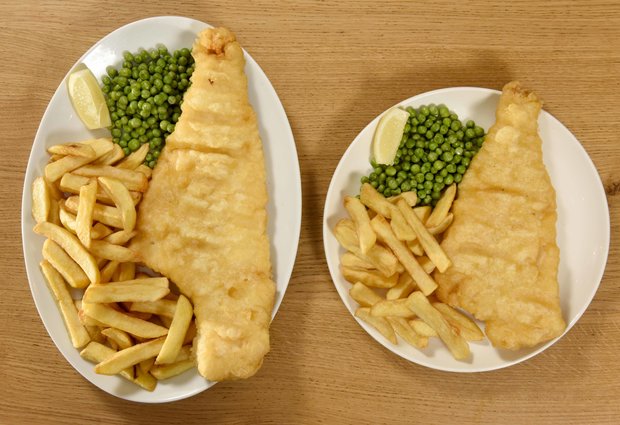 Helen Tordoff of Morrisons said the following about it:
Our customers love fish and chips but some a-fish-ionados with big appetites wanted a bigger plate of their favourite dish.

The meal is also great value for money and hand battered to order.
Damn straight. Of course, there is a catch with this offer and for some reason it's only going to be available until June 24th, so if you want to experience it then you had better get down there sharpish. Hopefully if it does well though they'll have a rethink about that and make it a permanent fixture. Still don't really get why they don't offer stuff like this all year round to be honest.
For more great deals from Morrisons, check out the Big Daddy Breakfast that they recently rolled out. Delicious.