Everyone is currently trying to find that certain je ne sais quo to take their Halloween Party from substandard to legendary and though this new Morrisons pizza might not exactly be the one you're looking for, I definitely think it will elevate your gathering a couple of levels higher.
Images VIA 
The pizza is simplicity itself in the concept – it's a trick or treat pizza where one slice will contain the legendary Scotch Bonnet hot pepper that is 200 times hotter than Tabasco sauce, measuring a cool 1 million units on the Scoville scale. You don't wanna be munching down on that basically unless you know what you're doing and if it's a trick, chances are you won't have time to have a glass of milk ready to set yourself out after you've scoffed it.
Here's what Shezad Mahmood, pizza buyer (these job titles just get sicker and sicker) at Morrisons said: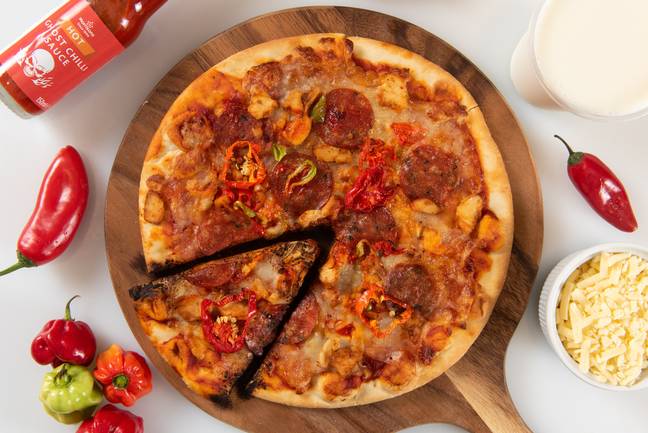 The aim is to give  customers the ultimate trick or treat.

The question is will our customers be prepared to roll the dice and face heaven or hell in a slice?
That's the question and hopefully someone will get completely smoked come Halloween by them. The pizzas cost just £3 or two £5 ant they're only going to be available from 21st October to 10th November. If you're not gonna put them out at your party, maybe put them out for those pesky Trick Or Treaters – they won't know what hit them.
For more of the same, check out these Sloth from The Goonies Halloween masks that are out this year. Absolutely awful.