Halloween has never struck me as a holiday that has specific food associated with it – except of course the pumpkin – but Morrisons is seeking to change that with the release of their limited edition Halloween pizza.
Images VIA
I'm not really sure what toppings you might think of putting on a Halloween pizza, but for some reason Morrisons have decided that they want to turn up the heat with this one, smothering it with ghost chili sauce as its tomato base, meaning that each bite will be at least 200 times hotter than Jalapeños. Holy moly!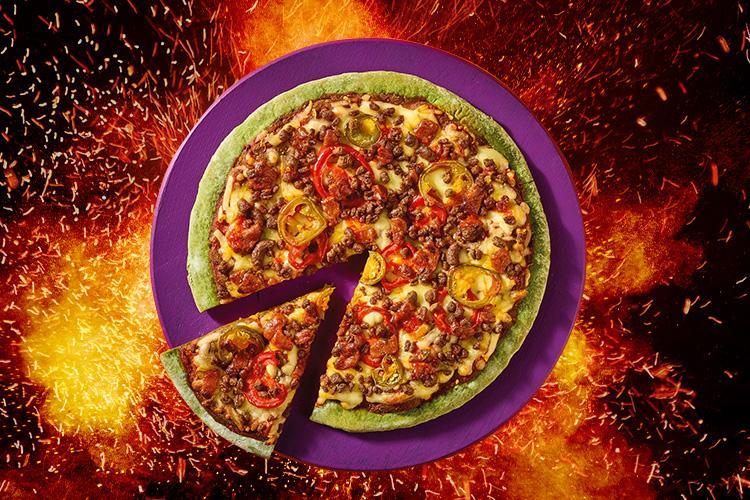 As if that wasn't hot enough, the pizza is then topped with reaper chilli infused cheese that is 300 times hotter than jalapeños and tabasco sauce so there is no way this isn't going to absolutely destroy you if you attempt to eat it. On top of that there's also some relatively mild jalapeños and spicy beef to finish it off.
It also comes on a weird green base provided by the algae Spirulina which makes it look like a tombstone. Spooky and kinda fitting as it's probably where you're gonna be heading if you attempt to eat this pizza.
Here's what a spokesman for Morrisons said about it:
This pizza is one of the hottest and spookiest we've ever made. It is definitely a combination of trick and treat with the delicious tombstone-green base, and the burn from the reaper cheddar or ghost chilli sauce.
Yeah no shit. The good news is that the ten inch pizza is pretty affordable and will only set you back £2.50 to completely screw up your mouth and ass.
For more pizza, check out this fried chicken base pizza. Absolutely filthy.