There's no denying that the introduction of the Greggs vegan sausage roll at the start of this year was probably one of the best pieces of business of the year, as their profits soared following its debut.
Images VIA
If it didn't before, this finally made people stand up and notice that the vegan revolution was here and wasn't going anywhere any time soon and more and more of your favourite shops and restaurants have started to try and come up with more and more vegan options to try and outdo each other. Whilst this is no doubt a noble enterprise, there is the feeling that it might have gone too far in some respects when Morrisons are announcing that they're bringing out a footlong vegan sausage roll – is that really necessary?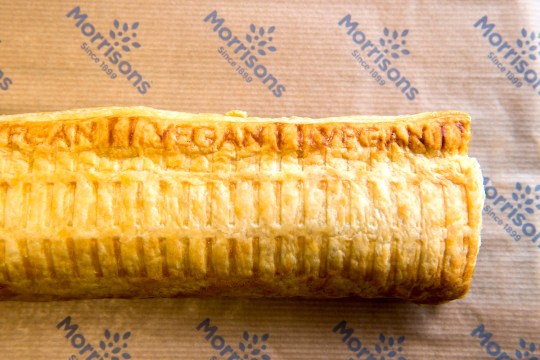 I mean look how huge that is right there – there's no way that one person is gonna eat all of that surely is there? In fairness though, despite the fact its double the length of its competition and four times the weight, it still is only going to cost you a pound, so I guess you might as well buy one and feed your whole family with it for a week or something. Makes sense.
In case you're wondering what the vegan mince is made of, it will contain seasoned soya mince that is blended with a mix of herbs and spices. Yum. Morrisons Pie Expert Steven Halford said the following about it:
Our original foot long sausage roll caught the imagination of the nation so we've worked hard to make sure everyone – including vegans – can now tuck into our creation.

Sharing is optional.
I mean Steven sounds like he's probably the kind of guy that can eat a whole one of those, but I think the rest of us probably will be splitting it at least in half. The fact it's only a pound means that it's gonna be flying off the shelves though even though its whole existence seems kinda stupid – how can they even make a profit of that is beyond me, but there you go.
For more of the same, check out McDonald's vegan nuggets. Yum.