Looks like Miley Cyrus is on the verge of becoming the next 'cancelled' celebrity following her comments on Instagram Live earlier.
Featured Image VIA
If you didn't know, Miley just recently ended her marriage to Liam Hemsworth and dived straight into a romance with The Hills star Kaitlynn Carter. However, that ended pretty sharpish.
She's now dating her longtime buddy Cody Simpson (the guy in the video), and shared the following musings on an Instagram Live stream while talking to him:
There are good men out there, guys, don't give up. You don't have to be gay, there are good people with dicks out there, you've just got to find them. You've got to find a dick that's not a dick, you know? I always thought I had to be gay, because I thought all guys were evil, but it's not true. There are good people out there that just happen to have dicks. I've only ever met one, and he's on this live."
"Don't give up, you don't have to be gay, there are good dicks out there, you just have to find them"

"I always thought I had to be gay because all guys are evil but that's not true"

– @MileyCyrus what's good? pic.twitter.com/y3yjUGpCSN

— • (@bljcmie) October 21, 2019
I don't see why anyone would have such a big problem with what she said unless they were insecure about their sexuality or just the type that enjoy recreational outrage, but boy oh boy did Miley receive a beatdown on Twitter after the video went viral:
I love how y'all stay mute about this. The internal homophobia/biphobia is really jumped out. So much for the for being vocal abt the LGBT community and being openly pansexual huh?

— • (@bljcmie) October 21, 2019
Less than a minute long and this video somehow manages to be homophobic, transphobic and kinda sexist all at once.

Yikes. Do better Miley.

— Lowri 🏳️‍🌈🏴󠁧󠁢󠁷󠁬󠁳󠁿 (she/her) (@lowrily) October 21, 2019
Miley basically admitting and stating that lesbianism is the product of a lack of selection in men… which translates to derogatorily depicting one's sexuality as a deficit

— justin (@jhaybren) October 22, 2019
I think it's time for @MileyCyrus to disappear for a while and sort out her messed up self

— Mydee (@mydeelitt) October 22, 2019
But of a harsh reaction IMO. I mean she isn't saying that gay women just need to find a man, she's just saying women who haven't had much luck with men and think they need to turn to women instead don't necessarily have to. She's taking the mick out of herself if anything.
Anyway, Miley responded to the backlash with the following: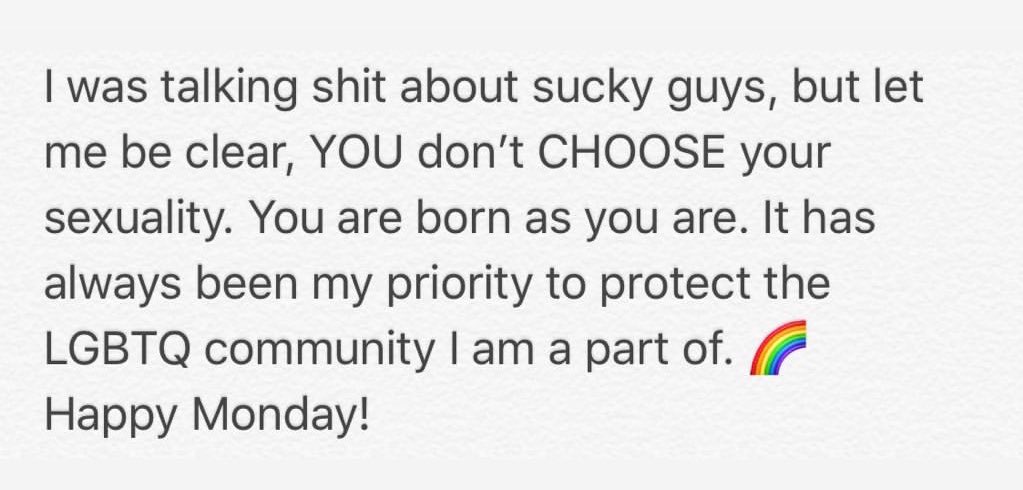 Just goes to show you can never be too careful in today's uber sensitive woke environment where your own personal experiences and seemingly harmless beliefs can get an army of pissed off 'progressives' on your case at a moment's notice.  Then again maybe Miley could save these intimate discussions with her boyfriend for when they're not Instagramming live to the whole world.
P.S. Did you know Miley Cyrus's mum is an absolute MILF? Click HERE.