Having a Hollywood American in the royal family seems to have broken a lot of British people's brains, but it doesn't seem like Meghan Markle is too bothered after she rubbed everyone up the wrong way at Wimbledon this week.
Featured Image VIA
Meghan was in attendance to watch her good friend Serena Williams in action, but had officials tell everybody there that they were to refrain from taking any pictures of the Duchess during the tournament.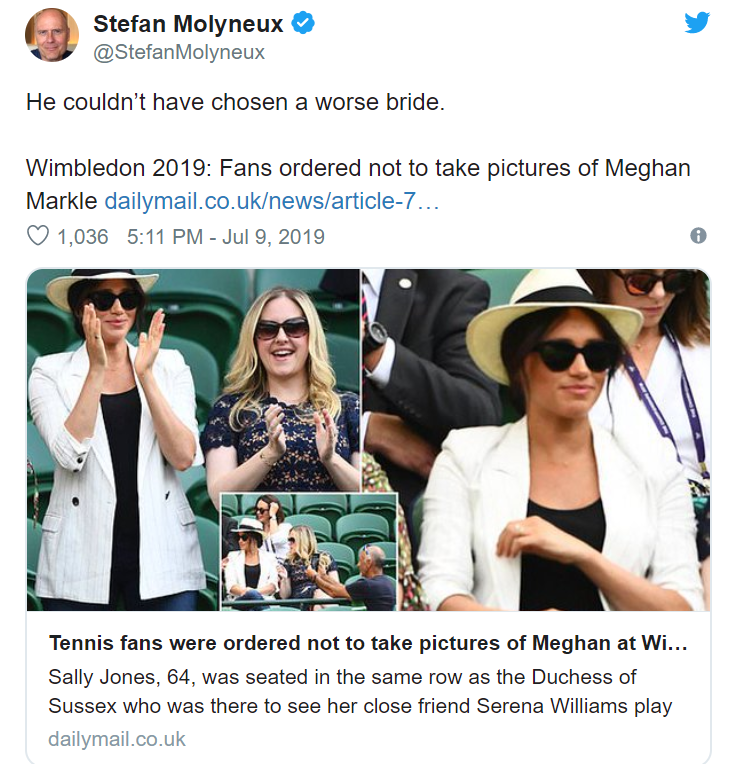 That was nothing compared to the atrocity of what she chose to wear during the tournament however. In fact I don't think we've ever seen anything so heinous in all of sporting history. Meghan Markle's crime? Wearing jeans to Wimbledon! Oh the humanity!
Meghan Markle was just called a "nightmare" by a Wimbledon official for wearing jeans https://t.co/g1iRMatkkK pic.twitter.com/qwkcAFXqgC

— Yahoo Lifestyle (@yahoolifestyle) July 10, 2019
Via Yahoo:
Meghan Markle's low-key outing to see friend Serena Williams play tennis at Wimbledon has turned into one huge drama … and, now, a Wimbledon official just called her a "nightmare" for committing a fashion faux pas at the games.

For the occasion, Meghan kept it casual in a white and black pinstripe blazer with a T-shirt underneath and jeans. Apparently, it's against etiquette to wear denim in the All England Club members' area where Meghan was sitting, so a lot of people are in an uproar.

The Times UK spoke to several on-lookers at the event, and one official said: "It was a nightmare, she was a nightmare."
Two world wars, numerous terror attacks, acid and knife crime everywhere, and now Meghan Markle is wearing jeans to Wimbledon? I don't know how we'll survive this TBH.
Tennis Legend John McEnroe's ex-wife Tatum O'Neal weighed in after Meghan's bodyguard blocked her from taking pictures of the Duchess, saying Princess Diana and even Kate Middleton would never be such gassed up prima donnas:
If you think about Princess Diana and how absolutely inclusive she was and how she would never turn anyone away, and I just had so much hope for Meghan, I wanted her to be the next Princess Diana and it seems like it's all about her and it's really upsetting me.

This is not Diana, this is something else. I don't know what it is.
She also praised Kate Middleton, who she said "really gets it" and "understands the lack of privacy" that is deemed a necessity of being part of the royal family, even on their days off.
'You are a royal, you are not an actor. To have a bodyguard muscle, someone out, is so tacky.'

Actress @Tatum_Oneal says she finds controversy surrounding Meghan Markle's recent appearance at Wimbledon 'upsetting'. #GMB pic.twitter.com/kcGU5D5gkN

— Good Morning Britain (@GMB) July 10, 2019
I sorta get what she's saying. OK it must be annoying getting photographed and having people call out your name everywhere you go, but that's kinda what you signed up for when you married Prince Harry and became British royalty. Technically Meghan Markle "works" for the British public. They pay her bills and health care while she enjoys a life of maids and castles and free tickets to Wimbledon. She just doesn't want anyone taking pictures of her while she enjoys all this stuff (which is pretty interesting considering she comes from the photo-heavy world of Hollywood).
It's not like these are mental paparazzi trying to take pictures of her either, they're just tennis fans at Wimbledon who spotted royalty in the crowd.
Apparently even this guy got told off but if you look closely, he's actually taking a selfie: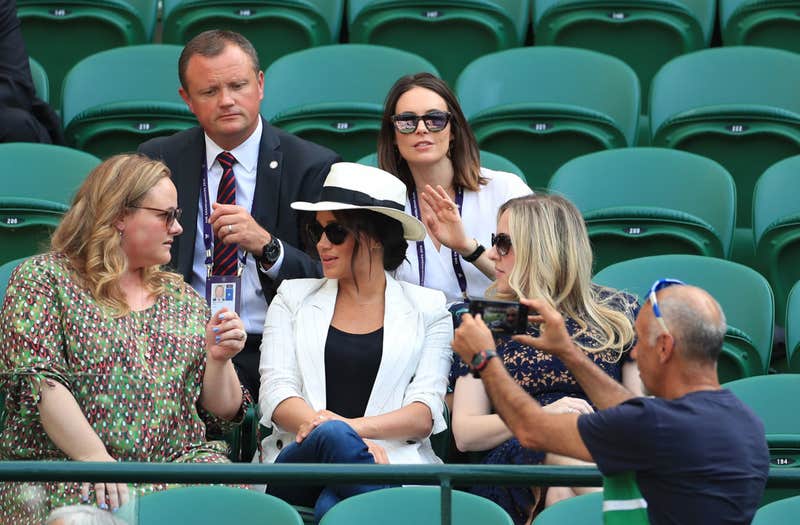 Lol.
So yeah maybe Meghan Markle needs to lighten up a little bit as far people taking pictures of her goes, but the idea that anyone would be outraged that she's wearing jeans at Wimbledon is just stupid.
P.S. I wonder what Prince William thinks about all ths. Some reports say he believes Meghan is stopping Harry from hanging out with him. Boy that would suck if it's true.