I'll be the first to admit that I don't really know that much about Megadeth, but I do know that they're a legendary metal band so it's disappointing once again to hear that one of their members has been fired after being accused of grooming young fans.
Featured Image VIA 
The musician in question is bassist David Ellefson, who was recently been busted sending explicit messages and jacking off in a video call to a very young girl. Unusually I can't actually find this videos online, but I'm sure if you want to see them then if you do a bit of digging you can probably get your hands on them.
Megadeth lead singer and guitarist Dave Mustaine releasing the following statement about the situation: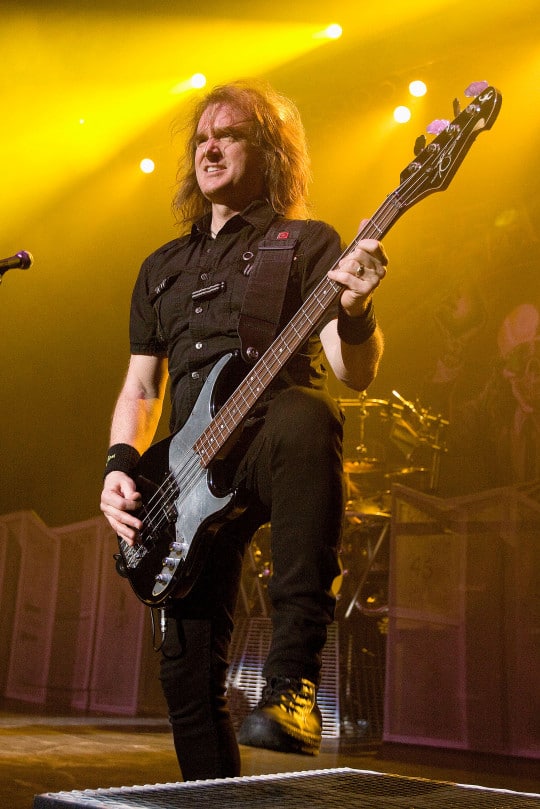 We are informing our fans that David Ellefson is no longer playing with Megadeth and that we are officially parting ways with him. We do not take this decision lightly.

While we do not know every detail of what occurred, with an already strained relationship, what has already been revealed now is enough to make working together impossible moving forward.

We look forward to seeing our fans on the road this summer, and we cannot wait to share our brand new music with the world. It is almost complete.

As it relates to creativity and business, we are all familiar with one another.

However, there are clearly aspects of David's private life that he has kept to himself.

As this situation unfolds, it is important that all voices be heard clearly and respectfully. We look forward to the truth coming to light
Pretty final and probably kind of heartbreaking for the band as Mustaine and Elefson originally formed it together back in 1983 – although they have had their beefs together in the past when a royalty dispute led to Elefson leaving the band for a period in the early 00s. This is a completely different situation though, obviously.
Bizarrely for situations like this, Elefson has somehow convinced the alleged victim to come forward and claim that she wasn't underage and was actually 19 during the video and wasn't groomed at all during the whole situation. Here's the statement:
Yes, those video calls did happen, but I was the one to initiate them and never was I underage, I was always a consenting adult. Nothing inappropriate ever happened before that. It was all consensual, I'm not a victim and I have not been groomed in the slightest as I was the one to initiate it.

In the end, it was all consensual and all online. I don't know how it got to this point, but a lot of information is being left out by the people purposely trying to harm him. I would ask that anyone sharing these personal private videos or any misinformation about them to please stop.
That's very weird. Don't think that I've ever heard of one of these cases where the alleged victim has come out and decided to support the person being accused. Even so, the fact is that Elefson is a grown ass man and this girl was 19 so there's no way that isn't creepy and weird and anyone who still has a problem with it can just argue that Elefson manipulated/groomed her into making that statement too. There's not really any way he's gonna get out of it this one. Hope it was worth it.
If you're wondering why Megadeth were so pissed off about this, it's probably because both Dave Mustaine and Elefson are born again Christians with Elefson even being well known as a pastor that preaches morality. He's also been married since 1993 and has two children himself who are probably older than this girl. What a mess.
For more of the same, check out this message from someone on Craigslist trying to find someone they hooked up with at a Megadeth gig. Romantic.