So, you've heard of Snowbombing festival, right? Of course you have, you're alive. But, you might not have heard of Transition Snow yet, it's their newest, eagerly awaited outing.
Snowbombing has gone from strength to strength over the last 17 years. They promise booze, snow, killer tunes, more killer tunes, another dusting of snow and then another crate of booze.
Thousands upon thousands of punters have smashed their ears and brains out (in a good way) at Snowbombing, so the guys in charge decided to spread their alpine wings a little bit further… BOOM: Transition Snow was born, and what a beautiful mother fucker she truly is.
The festival will be running from the 13th to the 19th December, i.e. imminent. So, basically, there's no time to think about it. Just book your tickets straight away. Or, if you need further convincing that you'll regret not joining up, read on…
The Tunes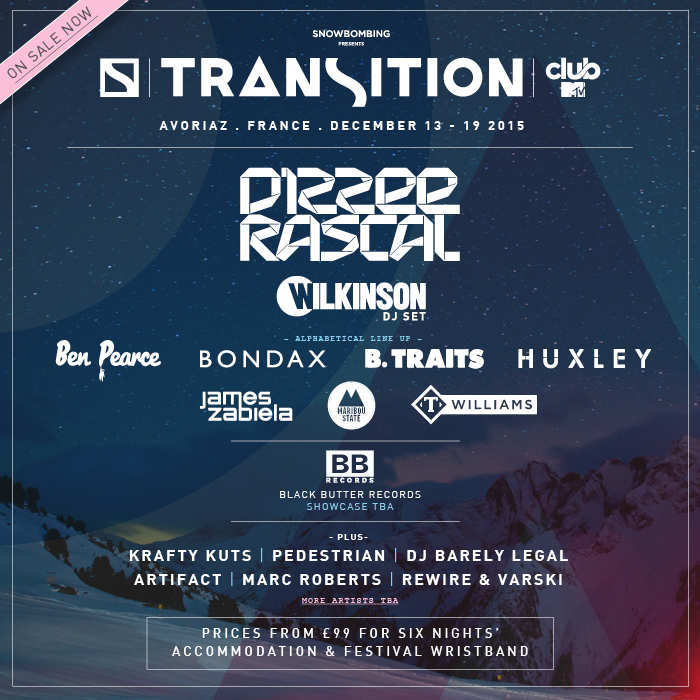 Right, where to begin with this fella, well, the music I guess, seeing as it's a music festival.
For this, their inaugural outing, they've used their Snowbombing clout to rope in none other than Dizzee Rascal himself. To be fair, I say they've "used their clout to rope in…" but how hard can it be to book artists to play at a beautiful ski resort to thousands of lunatics? I'd imagine it's not a particularly tricky sales pitch.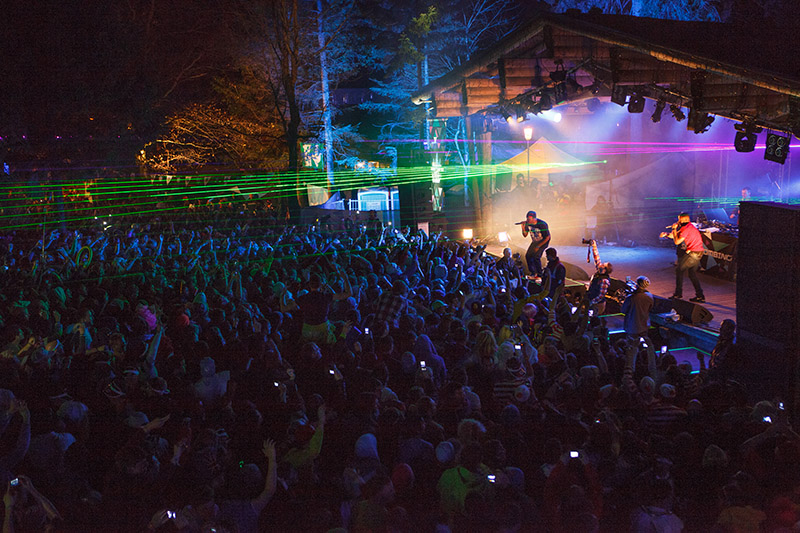 Image VIA
Joining the Dizz-meister they've also confirmed Ben Pearce, Bodhi, Bondax, Huxley, Krafty Kuts, Karma Kid and a butt tonne more to boot. Artists are still joining the roster as we speak. I guess they're all eager to get their tits and teeth into the slopes.
I sent the Snowbombing guys a tape of me playing kazoo whilst beat boxing, but I guess Royal Mail must have lost the package, because they haven't asked me to play yet? Weird.
As for the venues from which the acts will be aurally assaulting us, there's a wonderful array to choose from over the six luscious days of Transition Snow.
Transition Snow Venues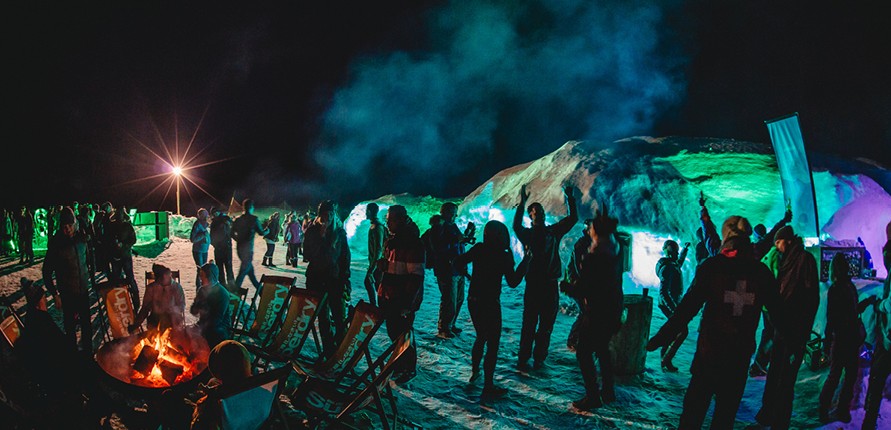 Image VIA
Chez Lenvers sits at the bottom of the slope and its views are actually epic. Not just a bit epic, but fully epic, in the genuine sense of the word. This is a good spot to start your evening.
Le Bistro, spread over three floors, offers an outdoor terrace dance-floor, so you can stare at the mountain tops whilst you bop and cop. Oh, and the Igloo Soundclash. The tagline for this venue is "2,000 ravers at 2,000 ft". I'm in.
The main stage pulls no punches either. Set amongst the trees you can slam with 3,000 other goons as Dizzee pumps rhymes into all of your orifices. They also promise fireworks, so that's an added bonus. The amusingly titled "Yak" offers a basement bar set up where you can chill when your eyeballs are exhausted from staring at stunning vistas.
Shooters – table top dancing and shots: yes. The Cabane – food in the day, dancing by night. The venue options really are lavish. No chance of boredom here. They've pulled out all the stops, then put some of those stops back in, and then pulled them out again.
For example:
What's the last thing you would expect at a snow based festival? That's right, a Mediterranean pool party. Put that in your pipe. The local Aquariaz water park will be hosting pool parties throughout the festival. Booze and a warm soak will ease any injuries you might (probably will) pick up on the slope.
So, that's the music and the venues covered. In itself that would be enough for your cash, but Transition Snow just happens to be positioned in one of the most beautiful places on earth too. Jesus.
Destination: Avoriaz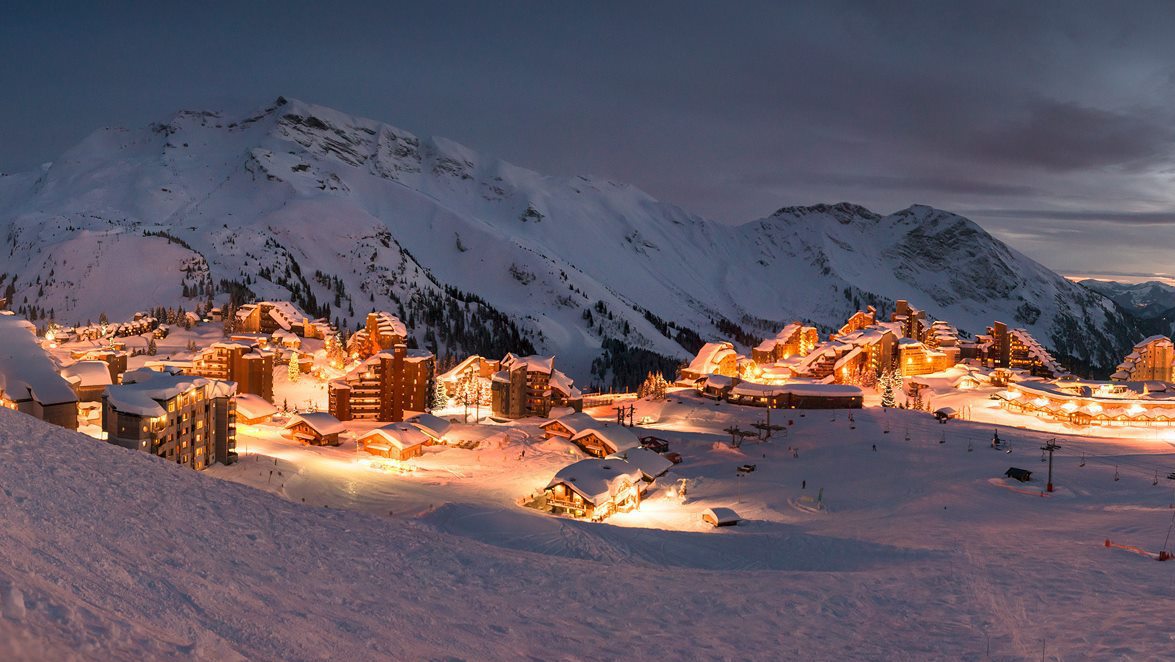 Image VIA
Avoriaz is a snow enthusiasts frozen wet dream. No pavements in site, you ski or board until you fancy a drink. Then you have loads of drinks and listen to some smashing tunes. And, get this, there are no cars, none; so the likelihood of dying in a car accident is literally ZERO. How often can you say that?
The only mode of transport in Avoriaz is horse and cart. I shit you not my friends. So once you're fully spanked from the club, you just hail a horse and cart and chill all the way to your crib. Thankfully for the horses, the piste, the accommodation and the venues are all just a short walk from each other anyway, but I guess once you're mangled, the idea of a horse taxi might be pretty amusing.
Whilst we're on the crib vibe, I guess I should mention the price. That's always the down point of a festival, but, in this case, it's not at all, which is quite the Christmas miracle. Prices start at just £114 for your festival pass and 6 night's accommodation. You couldn't stay for one night in London for £114, let alone six. Mental.

Image VIA
Avoriaz is situated in the mind-blowingly pristine Port du Soleil region that stretches across France and Switzerland. Port du Soleil means "bring the noise" in German, so you know it's got vybz. I jest of course, it means "ship of solitude"… sorry, still kidding. I don't care what it means.
Avoriaz has 650 km of shiny-as-shit slopes to charge around on in the day. That should do you, right? Thanks to its altitude, you can guarantee snow and because of that fact it has been voted the most snow-sure resort in Europe. Well, I don't mind if I do. Not that I can ski. I'll be in the bar(s).
Don't worry if you're a slope virgin or a little on the rusty side though, Transition Snow has lessons for all levels. So you can improve your skills before (and after) losing your chops to some bonza sounds.
It kind of sounds made up, doesn't it? A bit too good to be true. Well, it's real my friends.
It is real.