If there's one thing that people really fucking hate, it's change – especially when it comes to food. There's nothing worse than tucking in to your favourite snack, only to realise that they've changed the recipe and it now tastes like cardboard. Remember how glorious Sunny D tasted before they took out all the qualities that would turn your skin yellow? Although it finally no longer induces jaundice, the orangey nectar now tastes like a bag of dicks.
FEATURED IMAGE VIA
This month, supermarket giant Sainsbury's took away all our old favourite sandwiches away from their shelves and replaced them with new range of meal deals which nobody asked for. According to a spokesperson, the meals are now healthier but many of the gourmet sandwiches have been taken out of the £3 deal range. You can now get anything from an inedible cheese and onion monstrosity to a quite ok tuna and cucumber sarnie, but there isn't a single vegan option.
Unsurprisingly, our mates over at Meal Deal Talk were not happy about the update. When we asked founder Theo Edwards what he thought of the lunchtime revamp, he said:
I think they've let themselves down changing from the 'Taste the Difference' range. It was a favourite for a huge amount of people, not just in the group, but in general and I can see many people diverting from there. They went from selling unique sandwiches to chicken with no mayo… if it's not broken don't fix it!
Over on the group itself, people weren't so polite about the matter. After the same few articles announcing the bad news was posted to the group roughly a hundred times, here's what the opinionated meal time reviewing obsessives had to say on the matter.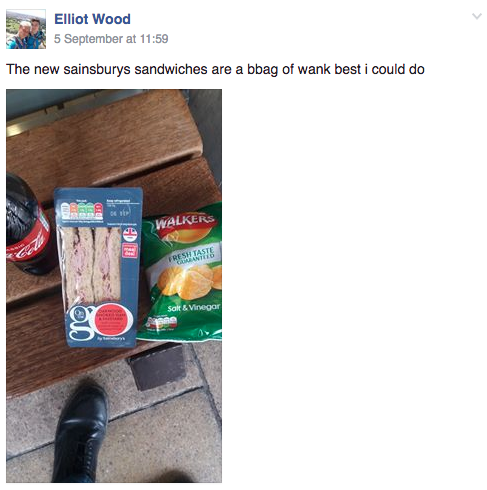 I'd sooner eat the shoe.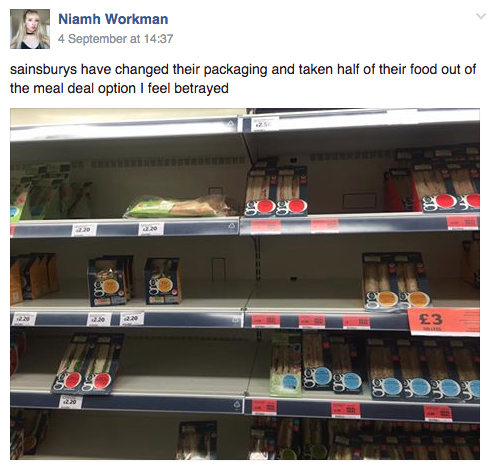 Nobody asked for this.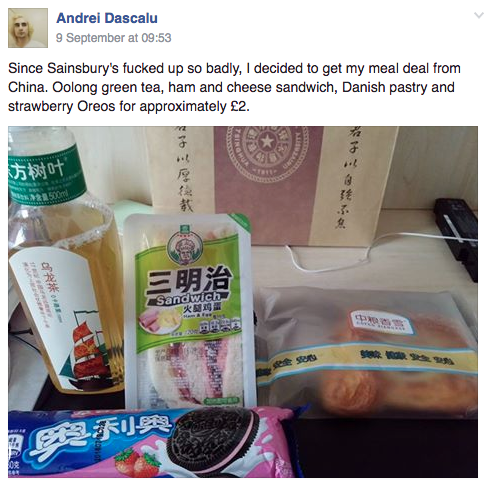 BRB, booking flights now.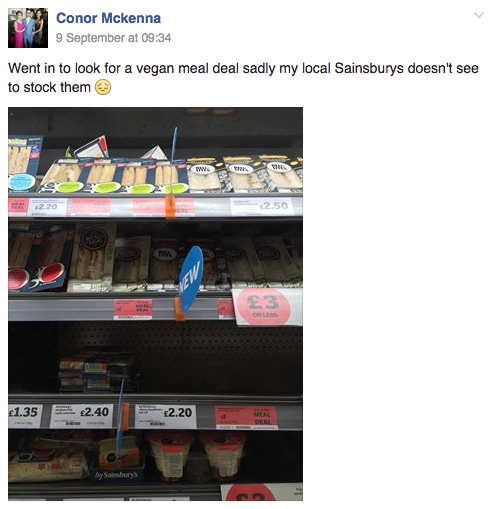 RIP vegans.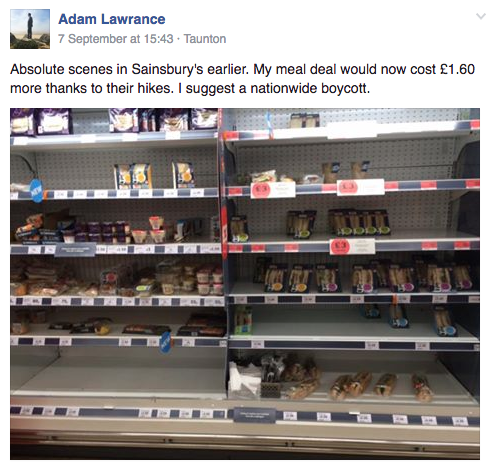 £1.60 more may not seem like that much, but when you get a meal deal as your every day work lunch, it really adds up. A five day working week would set you back by £8.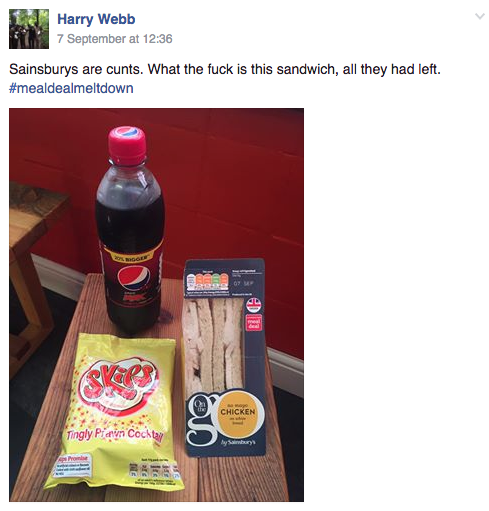 I have never been less enthused by a meal.

We are gathered here today to dishonour and pay no tribute to our new enemy, Sainsbury's, who tragically died following their slaughtering of the classic meal deal.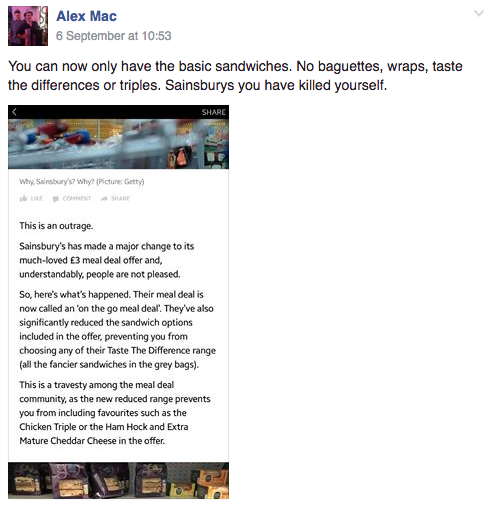 "This is a travesty among the meal deal community" is putting it lightly.

Devoted Sainsbury's goers like Chris Wilkins will have to change their alliance to one with Tesco or Boots as their lunchtimes have now been royally fucked up.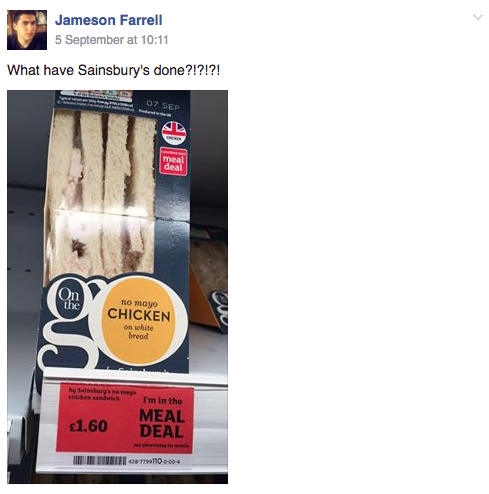 Now introducing, the world's most bland sandwich. 0/10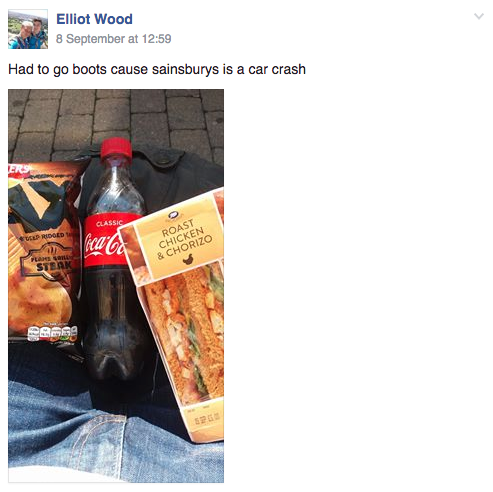 When desperate times call for desperate measures.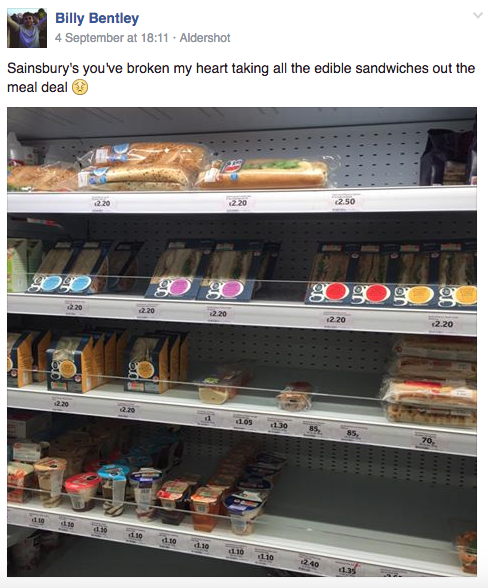 </3 :'(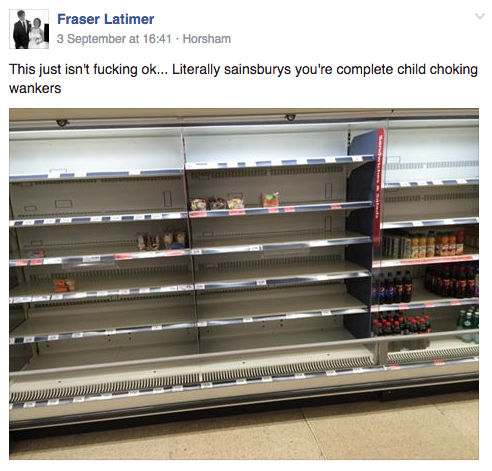 Obviously someone has come along and dumped this trash into a skip somewhere because surely nobody would dare to eat these horrendous new sandwiches.

Dylan Compton is the hero we didn't know we needed – you too can sign the petition to return meal deals to their former glorious state here.
Whether or not you'll be grabbing your work lunch from Sainsbury's now, here's what your meal deal choice says about you. Don't bother clicking if you hate mayo, prick.