We all know that McDonald's is gross – you can't really argue with that when the food won't even decompose after five years – but this is a whole new level of gross, as one branch decided to serve up one of its signature quarter pounders to a customer without even bothering to cook it.
Although obviously each McDonald's serves countless quarter pounders a day, it seems absolutely ridiculous to think that any of the retards that work in the kitchen could actually pass a quarter pounder through to the front whilst actively forgetting to cook it. I mean you need to look at the patty before you whack all that crap on top of it so to think that someone missed a red monstrosity like the one pictured above beggars belief.
Unfortunately though, that's exactly what happened to Byron Thomas when he picked one up at Weston Favell Shopping Centre branch in Northampton a couple of days ago: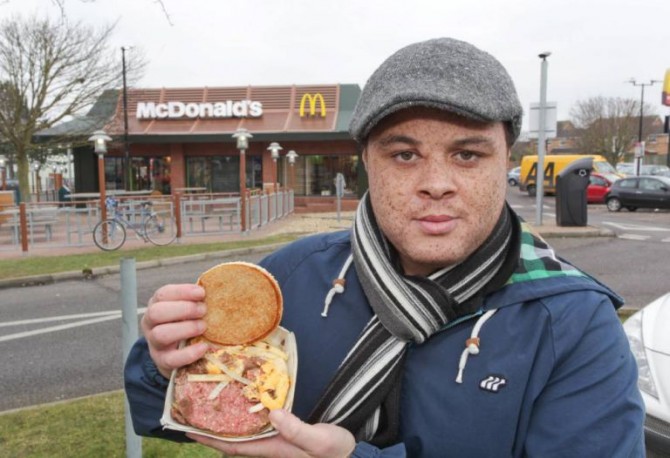 I spat out what was in my mouth straight away, it was absolutely disgusting.

I was up being sick at 4am the next morning and I am still being ill on and off now.

I have Ulcerative Colitis so it doesn't help my stomach when I am eating completely raw meat.

We only pop to McDonald's for a treat every now and then but there is no way me or any of my friends or family will ever be going there again.
Byron explained that the manager offered to cook him a new burger when he reported this – gee thanks guy – but the damage had already been done which led to his sickness. He's reported the incident to McDonald's head office and a local environmental health officer, so hopefully this will never happen to anyone again. Byron could probably get a bunch of compensation too if he plays his cards right, although he'll be hoping it doesn't come in the form of vouchers by the sound of things.
☛ More Mac D's: Employee At The Most Ghetto McDonald's In America Speaks Out