Apparently McDonald's is slowly rolling out these 'Create Your Taste' touch screens in its fast food joints where you can create your own customised burger. They only exist in 100 of the franchises over here and quite frankly they sound like they kinda suck, because you can only remove items and not add them. What's the point in that?
This isn't true of outlets in America and Australia though, where you can add items to your heart's content. One man decided to push this to the limit by adding every single item possible to his burger. He was only allowed one bun and two burgers, but he could add as many toppings as he wanted.
That meant that he added ten pieces of bacon, jalapeños, onions, mushrooms, guacamole, pickles, red onions, lettuce, tomato and chill lime tortilla strips. I'm not quite sure what they are?!
This was before he even talked about the cheese. There were ten slices of American cheese, ten slices of natural sharp white cheese and ten slices of natural pepper jack cheese. I have absolutely no idea what constitutes any of those cheeses.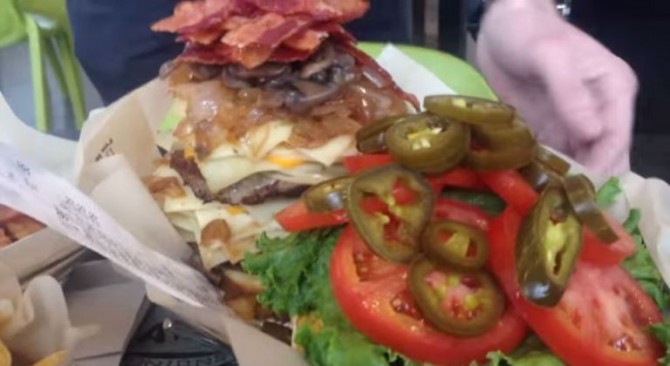 Not wanting to forget dips, he went with special Big Mac sauce, mayo, spicy mayo, sweet BBQ, garlic sauce, mustard and ketchup. He limited his sides to just fries and a coke though. I suppose he didn't want to be greedy.
Amazing scenes ensue as the order breaks the cash register – coming in at a whopping $890.80, although there's a pricing bug which means it can only charge him $24, result  – and then the guys in the back actually proceed to make this monstrosity, which impressively managed to stand up straight in between the two buns. It was so rare that even the manager of the branch gets a picture with it.
No word on whether the dude managed to finish it but I want to know when these screens are going to roll out over here because I want to blow three week's wages on trying one of these badboys. Not sure if it has as many calories as the double donut bacon and cheese burger though.
Images VIA