People freaked out when Ashton Kutcher and Mila Kunis said that they rarely bathe, and it now appears that Matthew McConaughey is part of the stinky celeb crew after revealing he hasn't worn deodorant in three decades.
Featured Image VIA
Matthew McConaughey was dragged into the debate after someone dug up an interview he did with Playboy while filming Fool's Gold in 2008. Co-star Kate Hudson requested Matthew give himself a spritz while they filmed together, only for the leading man to politely decline:
She always brings a salt rock, which is some natural deodorant, and says, "Would you please put this on?" I just never wore it. No cologne, no deodorant.

The women in my life, including my mother, have all said, "Hey, your natural smell smells, one, like a man, and, two, smells like you.
Speaking on SiriusXM last week, Matthew's hygiene habits came up again as his Tropic Thunder co-star Yvette Nicole Brown discussed the star's unique scent:
I remember that Matthew McConaughey said that he did not use deodorant and that he didn't have an odor. So my first thought was, "I'm going to get as close as I can to him to see if he's right."

He does not have an odour. He smells like granola and good living. He has a sweet, sweet scent. That is just him, and it's not musty or crazy.
Well, we all knew that Matthew McConaughey was the coolest guy on the planet, but being so cool that you smell great even when you get sweaty? That's just unfair really. The guy looks like he can just roll out of bed, throw an old T-shirt on, go on a 5k run on a hot summer's day and still end up being the best-smelling guy in the room. He smells like a real "man", according to the women in his life. Dude could probably bottle his own sweat and sell it as cologne at this point.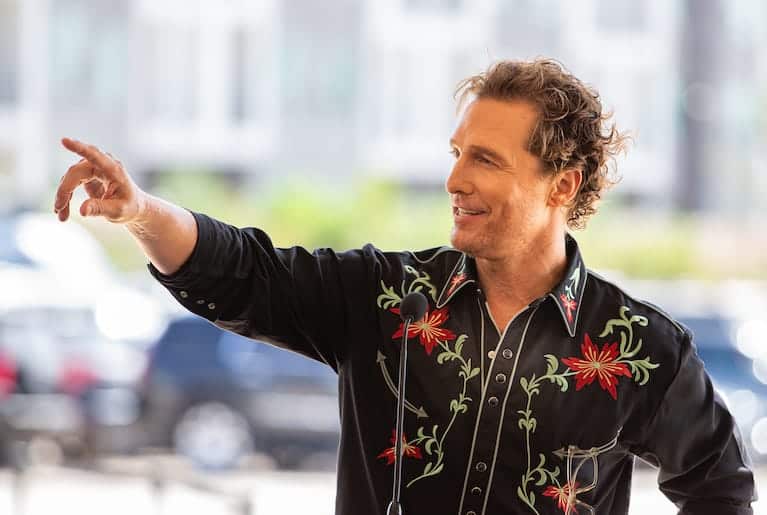 The interesting part is that people aren't losing their minds over this the way they were with Ashton Kutcher and Mila Kunis. Probably because they believe every word McConaughey says about how great his natural scent is. Although I guess barely showering is a whole lot worse than never wearing deodorant. Either way – must be nice to be Matthew McConaughey. Absolute king of the world.
For the time Matthew McConaughey revealed he was molested as a boy and 'blackmailed' into sex at 15, click HERE.