The world was pretty stoked about a month ago when that asshole troll Martin Shkreli finally got what was coming to him when he needed up in jail after violating the terms of his bail for one of the dumbest comments imaginable when he tried to get his followers to procure a lock of Hillary Clinton's hair. Talk about asking for trouble.
Featured Image VIA
Anyway, since that incident and whilst he waits to be sentenced in January for scamming hedge fund investors , Shrkeil has been detained in Brooklyn's Metropolitan Detention Centre. This was once described by an attorney as 'the worst prison Shkreli will ever be', but it turns out that he isn't having that much of a bad time there right now, as was revealed in a letter to his friend Lisa Wishant that was featured in the New York Times: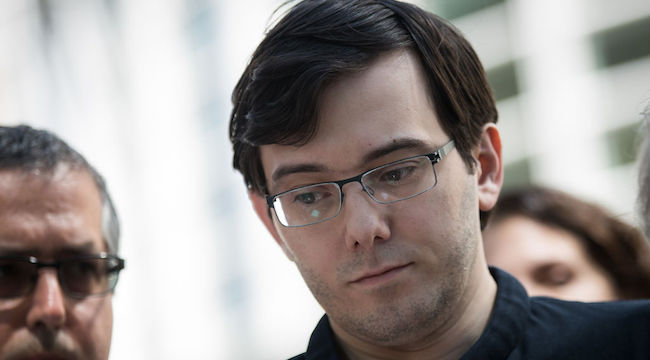 "Things are not THAT awful here," inmate 87850-053 wrote to Whisnant, underlining "THAT" three times. "There are some bright sides. I am teaching these prisoners some new things and hopefully some ways to change their lives."

He seems to be handling it with typical Shkreli style," she said. "He brings people together and shares his knowledge. Martin was meant to be a teacher. He loves it. He's a natural."

"He says he has a small uncomfortable bed, and his sleep quality is very low."

Shkreli's also been subjected to "sorrowful stories," he writes, such as a purported mobster crying in his room.

"There's a lot of pain on these [prisoners] that people don't see," Whisnant said, regarding the alleged wiseguy's whimpers. "He'll be absolutely fine. He always is," she added of Shkreli when asked if the revelations of teary-eyed mobsters might endanger him.
I mean it doesn't exactly sound like a walk in the park, but it doesn't sound like he's getting raped and beaten up all the time so I guess that's something. Having said that though I doubt he would reveal that in a letter to the outside, or if it would even be allowed to make it to the outside if it detailed said information.
Despite how awful the guy is, I don't want to see him get buttraped in prison, but I don't want him to have a great time either. Seems like his conditions right now are mostly adequate and up to the standards I want from him now for what it's worth though – if he's telling the truth that is.
For more Martin Shkreli, check out one of his most embarrassing moments here. Really is something else that one.