Unless you've been living under a rock for the past week, you'll know all about Kanye's dramas of late. I won't bore you with the deets right now, you've probably heard enough. But a brief summary of the situation for any of you unaware is that Ye has gone on a series of rants on Twitter; and the two most interesting revealed that he has both a monumental sum of personal debt and that he likes a finger in the backdoor. There's no confirmation that the two are linked – but, personally I reckon it takes a fair amount of money to convince someone to stick their fingers inside of Kanye. Working off of this hypothesis, it makes sense that he'd be in debt when you think about it. But I really wouldn't advise thinking about it – because those mental images really aren't something you need in your life.
Butt let's put Kanye's rectal passage to one side for a moment, and talk about that debt. In his rant he pretty much begged Mark Zuckerberg – creator of Facebook – to give him a billion dollars. And until now, pretty much everyone had assumed that the social media giant wasn't going to dignify Yeezy with a reply. But it seems like we were all wrong, because the CEO recently liked a post by an ex-software engineer who previously worked for the firm. And it seems like this might be the biggest indirect burn of the decade so far.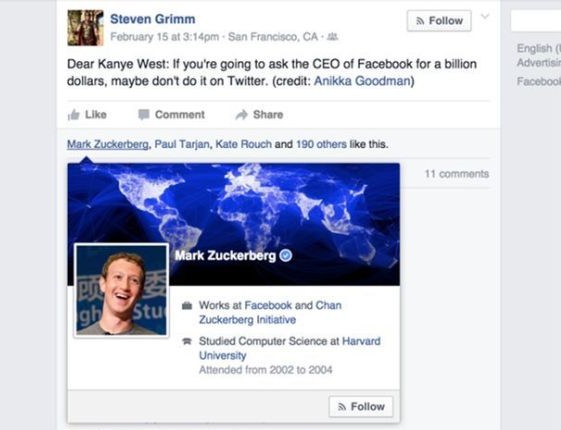 Wow. Who would have thought Zuckerberg had so much sass. It's a shame though, Kanye could really do with that money – especially as it looks like he's just lost another $10 million.