I know we keep sharing videos of people complaining about wearing masks and doing dumb stuff, but I don't think I ever thought that the next one I would be bringing to you guys would be regarding a dude using a goddamn snake as a face mask on a bus.
Images VIA
Even more crazily, this isn't happening in some redneck deep south American town, but here in Manchester city centre. The guy was papped on a bus in Salford with the python wrapped around his neck and face on the bus, with it also pictured wrapping itself around the handrails of the bus as well.
Here's what someone on the bus said about it: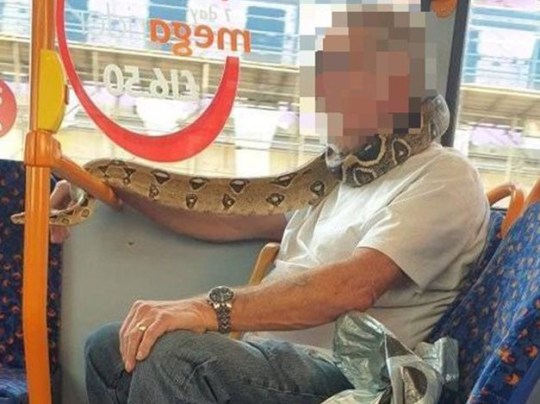 He had it wrapped around his face like a mask getting on the bus.

At first I thought he had a really funky mask on, then he let it crawl around the handrails.

No one was really bothered on the bus but a man behind took a video. It was definitely entertaining.
Find it kinda weird that nobody on the bus was bothered about a humongous snake slithering around on it, but maybe it's just something they're used to up in Manchester/Salford? I think if I saw it on a bus near me I would sit as far away as possible, maybe even get off the bus entirely. Those things freak me out.
Also, in case you're wondering, medical experts don't think that using a snake as a face mask is a good way to stop Coronavirus. Here's what Professor of Science Communication at the University of Gloucestershire Adam Hart told Metro.co.uk:
There are, unsurprisingly, no studies of the effectiveness of "snake masks" but I think we can confidently say that this is not an effective way of reducing the spread of coronavirus.

The gaps between the coils that allow the "wearer" to breathe will also allow virus particles to pass through. It is, quite frankly, a ridiculous face covering.
Yeah, I probably would have thought that myself but it's great to hear it from an expert too. I guess we can add 'people wearing snakes as face masks' to the list of things we can get angry and annoyed about when we see them going down in public now. It's a long list.
For more of the same, check out this video of a snake regurgitating another live snake. Rank.