A drunk and disillusioned Manchester Utd fan dialled 999 and demanded to speak to Alex Ferguson after Utd crashed out of the Capital One cup to Sunderland last night, ending any realistic chance of them winning anything this season (unless they go on to win the Champion's League — unlikely).
The game against Sunderland was mega tense with an unreal finish — both teams scoring in the last 60 seconds of extra time, taking the game to one of the most ridiculous penalty shootouts I think the football world has ever witnessed.
We can only guess the guy was going to bawl down the phone to Fergie and beg him to resume his managerial position at the club.
Here's the statement released by Manchester police: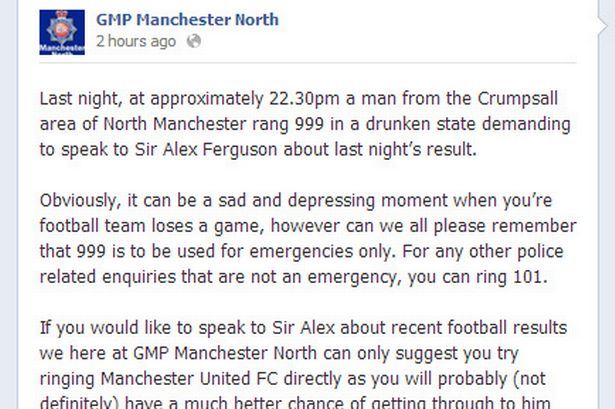 ☛ More Distress: Manchester Utd Fan Commits Suicide After Newcastle Defeat