I'm pretty sure that every single one of us would have absolutely loved a bunk bed with a slide on it when we were kids – imagine waking up every day and sliding down to whatever adventures awaited you – but I'm fairly certain that none of our parents were as cool as Dustin Allen Bushell who went out there and did exactly that for his kids.
Featured Image VIA
Turns out that Bushell sawed off the slide from a children's playground near to his mobile home in Burbank, Washington and repainted it and mounted it on his son's bunk bed. No doubt his son really enjoyed it whilst it was there, until Burbank was sadly busted on a completely separate matter.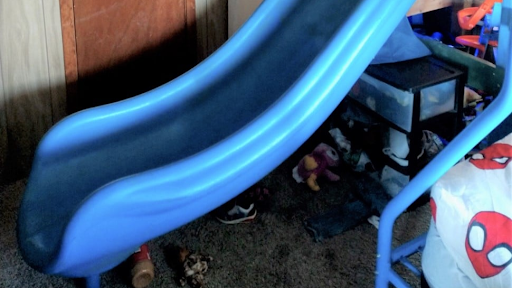 Detective Julie Lee was investigating a series of catalytic converter thefts when the evidence led her to Bushell's mobile home. Whilst she was searching the premises, she couldn't help but notice the giant slide and called it in, only to find out that it had been reported stolen in December 2020.
Bushell was subsequently arrested on a charge of possession of stolen property. Several catalytic converters were also found in his mobile home too, but it hasn't yet been confirmed that they were stolen.
I think the saddest part of all this though is that Bushell's kid only got to enjoy the slide for a couple of months before it was taken away from him forever. I think Bushell will probably avoid a jail sentence for his crime, but ain't nothing going to repair that kid's broken heart. Maybe one day he'll know what a hero his dad was and at least for now he'll still have his Spiderman sheets.
For more of the same, check out this airport that has a slide that takes you right to your gate. That's awesome.