A Washington state man riding in a 1996 Buick has been arrested after fleeing a hit-and-run incident and leading police on a high-speed chase with his dog sitting in the driver's seat.
Featured Image VIA
Police ended up arresting the 51-year-old man, who told them he was teaching his dog how to drive. The man was apparently steering the car from the passenger seat.
Washington trooper Heather Axtman told CNN that the car was moving "absolutely recklessly" and the police chase ensued at 109 mph. As one of the troopers tried to corner the suspect's car, they looked inside and realised a pit bull was sitting in the driver's seat.
Eventually they stopped the car using spike strips, and the suspect explained that he was "trying to teach his dog how to drive".
I wish I could make this up. I've been a trooper for almost 12 years and wow, I've never heard this excuse. I've been in a lot of high speed chases, I've stopped a lot of cars, and never have I gotten an excuse that they were teaching their dog how to drive.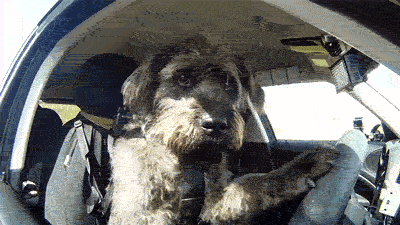 The man's now been charged with reckless endangerment, hit and run and driving under the influence, while the dog, described as a "very sweet girl", has been placed in an animal shelter. Which is just as well because this is America we're talking about so it wouldn't be the most shocking thing in the world if they tried to charge the dog as well.
As for teaching your dog how to drive, it's a good idea in theory. Imagine you're on a long drive and need someone else to take the wheel while you have a nap in the back seat. Who better than your dog? If this man had actually succeeded it would have been Joe Exotic levels of animal training. Alas, I just don't think they're built for it. Can't blame a man for trying though.
For the dog who sprained his tail from 'excessive wagging' because his owners are home all day in quarantine, click HERE.