A dude called Marc Nicholls from Labrador in Queensland Australia, went down to his local KFC the other day and bit into a piece of that tasty fried chicken. Or what he thought was fried chicken.
Instead he got a mouthful of chicken lung. Yuck:
It was disgusting, it was absolutely vile.

I pulled a piece off, then found that and spat the rest out. You don't expect to have that type of crap in your food when you go to KFC.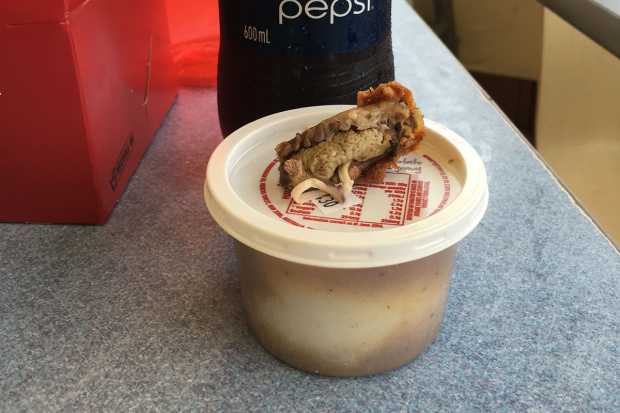 Images VIA
No, you don't. A spokesperson for the company confirmed that it was a piece of offal – probably lung or kidney – that should have been thrown away but had somehow fallen through the quality control loop. Unfortunately Marc got stung by it.
When you think about how much chicken KFC must serve around the world and the rarity of incidents like these though, you've got to say they're probably doing a pretty good job in quality control. It's just absolutely horrific and disgusting when something like this does happen that it gets blown up massively.
But yeah, if that happened to me I would not be happy. I don't think I ever buy chicken pieces from KFC though so that's one good way to avoid it ever happening to you.
Is it as bad as when this kid found a brain attached to his piece of KFC chicken though?