Married father of one, 44-year-old Mark Goddard of Newton Abbot is a desperate man. Last week he secretly built a guillotine out of some bits of wood and an axe in his shed. He waited for his wife and child to be out-of-the-way then got down to business. He set the contraption up, and cut off his own hand. On purpose. The initial blow didn't quite cut all the way through, so he had to sever the remaining flesh, tendons and nerves with a scalpel.
Wow. What would bring a man to this? Maybe he's a complete drugged up lunatic who'd been getting smashed up on bath salts for weeks? Nope, he's a perfectly sane man who recently passed three psychiatric evaluations. Was he in a violent jealous rage with a serious history of self harm and abuse? Nope, he is a level and "normal" man with a happy family.
The trouble began with a motorbike crash 16 years ago where a piece of plastic became embedded in his arm. Ever since then Goddard has suffered terrible pain in his hand and arm. Medication wouldn't work and there was nothing doctors could do to ease his suffering. The pain was constant and so intrusive that Goddard just wanted the arm removed. He'd rather deal with having one less limb than a life of agony. However, because the wrist and hand of his arm were completely healthy in the eyes of the doctors, they wouldn't cut it off.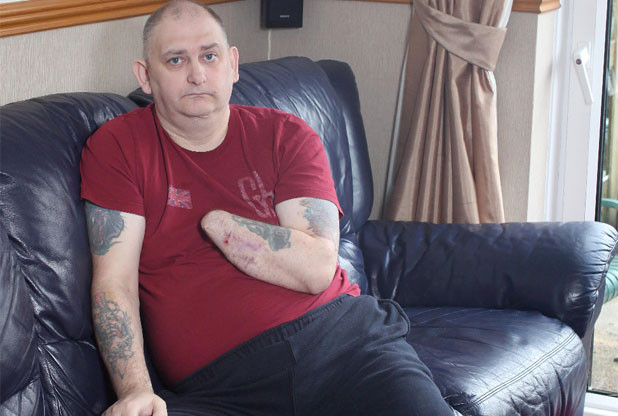 Surgeons don't like to remove tissue that is completely fine. That makes sense. But Goddard became increasingly desperate. He decided if the only reason they wouldn't amputate his arm was because his hand and wrist were in perfect working order, he would rectify that situation…
☛ Read Next: Russian Doctor Cuts Out His Own Appendix & Other Self-Surgeries