A Polish businessman who was accused of an anti-Islam hate crime has had the assault case against him thrown out after the Muslim lady's key witnesses had an absolute mare in court.
Featured Image VIA
Aniso Abulkadir claimed that she and her friends Luxika Rajeswaran and Oyindamola Olatuyi were assaulted at Baker Street Tube station by Pawel Uczciwek in a 'racially abusive' attack in July 2017.
The three women whipped up a social media frenzy by claiming Pawel had tried to rip off Ms Abulkadir's hijab and had hit her. They also published his home address online and called for his employer to sack him.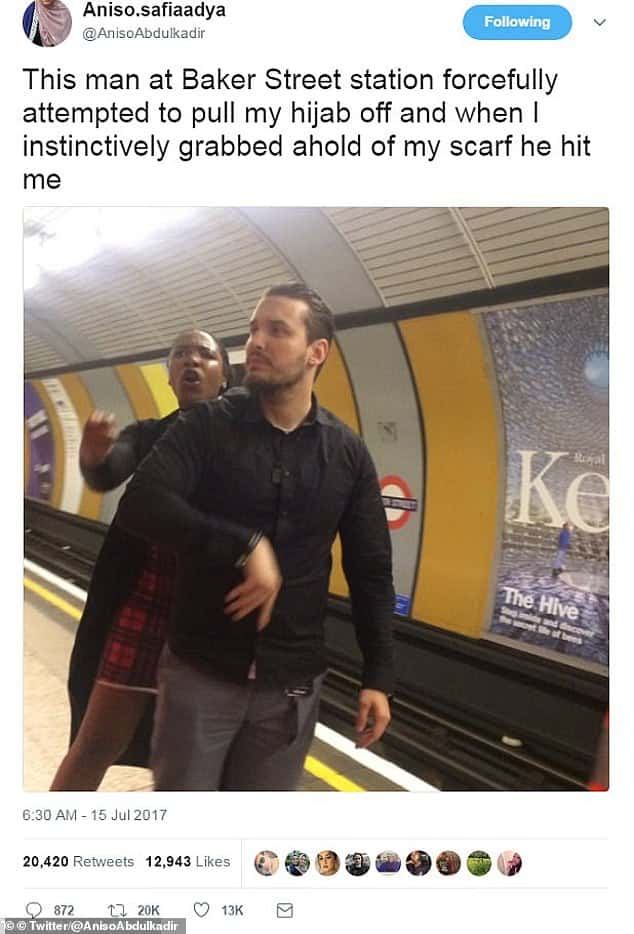 At the time, Pawel Uczciwek, now 31, denied attempting to remove the hijab and said he had been defending his black girlfriend Yolaine Mossimi from a 'racist attack from three random females'.
Despite this, he was charged with religiously-aggravated common assault by beating and was looking at a two-year jail sentence.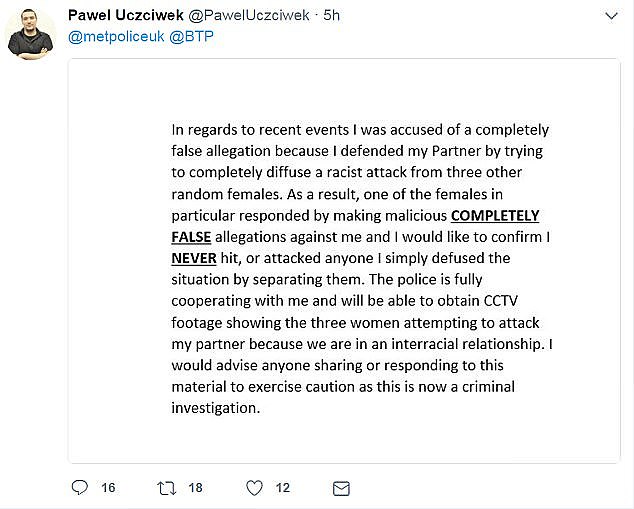 All's well that ends well though – the case was thrown out at Blackfriars Crown Court after the trio failed to establish if Pawel had tried to remove the hijab during the altercation.
Court papers show that Ms Rajeswaran and Ms Olatuyi contradicted each other on basic details while giving evidence.
Amazing, Ms Olatuyi admitted that she was 'not sure' if she saw Pawel grab the religious veil, but told the court: 'I am going with it happened.' WTF?!
In fact, according to Pawel's lawyer Brent Martin, Pawel only approached the three women after he had overheard them making 'derogatory' comments about his black fiancee and the fact she was dating a white man.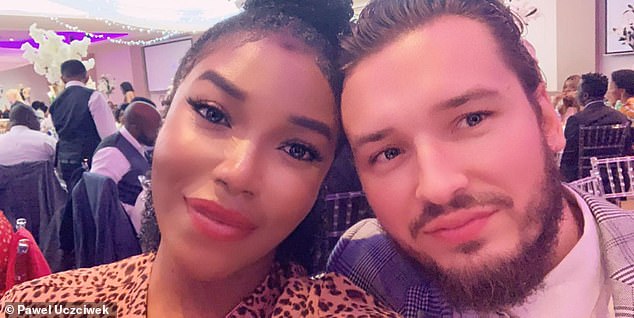 Pawel told MailOnline:
Following the incident, overnight the three girls went on Twitter and Facebook to create a false story about what had happened.

Aniso [Abulkadir] falsified a hate crime story about her being attacked and she used her religion to stir-up racial hatred and paint me as the attacker.

Luxika [Rajeswaran] took a picture of me without my consent and used this to perpetuate their agenda. Luxica and Oyindamola [Olatuyi] added their false statements to Aniso's hate crime story in an attempt to make theirs more credible.

It was later discovered that their police statements were contradictory to what they posted on social media, and the truth can be seen on CCTV.

Since the false accusations, I received countless abusive, racist and life-threatening phone calls, texts and online messages from various unknown people.

My home address, place of work, personal images have also been posted all over social media. A number of people have contacted my place of work in attempts to get me fired. I have been called an Islamophobe.

These false accusations and the resulting harassment and abuse towards me and my loved ones, and their attempt to destroy my public image, has caused insomnia, stress and anxiety for the past two years.

Relentless cyber-bullying and false online statements have impacted my mental health, causing emotional and psychological distress.

I was forced to travel to work by car for months to ensure my safety and the safety of those around me. My fiancee worked from home for weeks out of fear of her own life, and that the accusers will find her and attack her again.

People have shared my family address where my parents and my little sister lived, their lies put them directly in harm's way.

The case came to conclusion and I was dismissed of all charges. I'm relieved that the truth was shown in court.
It's just as well the truth came to light, but still shocking that Pawel and his family had to go through this nightmare to get there. It's just crazy to hear that the racism was carried out by his accusers all along, and they managed to make him look like the racist and almost ruined his life and career over it. Surely these women will now be investigated for wasting police time, at the very least?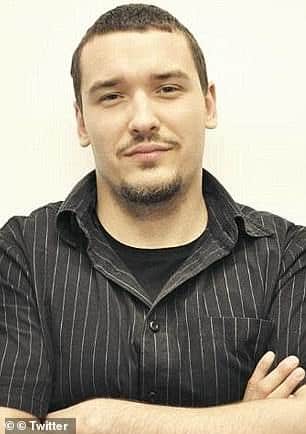 Judge Rajeev Shetty called the case a 'colossal waste of time' and called the prosecution's evidence not 'nearly convincing enough for the criminal standard of proof which is that you must be sure that that happened before the defendant could be convicted of anything'. He also apologised to Pawel in front of the court, which is a nice touch. Here's to a more prosperous and drama-free 2021 to Pawel and fiancée Yolaine!
To watch a gang of transgender women beat the crap out of a man on the tube after he said they need 'fannies' to be women, click HERE. Whoops!