The Madeleine McCann case has been hovering around the news for the past few months after it emerged that investigators had identified a convicted and jailed German paedophile as a prime suspect in her disappearance/murder and now it looks like they might finally be on their way to finding out what happened to her.
Images VIA
The latest news concerns crime scene investigators and their exhumation of a site in Seelze, near Hanover, Germany where they fear Madeleine may have been imprisoned and murdered. During their search, the investigators have announced that a hidden basement has been found underneath the site of a shed that was demolished in 2007/8 on an allotment belonging to the suspect Christian Brueckner.
Here's what Brueckner's neighbour on the allotment, 73 year old Wolfgang Kossack, said about him and his time spent there – apparently it was his permanent residence for a year in 2007:
I remembered his face from the pictures in the news. And I remember his van and his dogs. I had completely forgotten about him up until then.

Christian Brueckner had the garden next to mine. He arrived in 2007 and left within a year.

He told me that he was living off the grid, that he had not registered with the authorities – no one knew he was there.

He never did any gardening. He did not plant anything or try to grow anything. He just sat around drinking beer.

At the time there was a building on the garden. It was a small wooden structure with only one room to keep tools and other things but it had a kitchen.

The building was not really a house, you might call it a shed. But it had a cellar and underneath there would be foundations. This building was destroyed in 2008.

Sometimes a young woman would be there with him.

She seemed to be his girlfriend.

He had two dogs – a big one and a small one – who were quite annoying. They would come into my garden to do their business.

I remember he called the small dog, Frau Muller [a German nickname for a housewife].

Brueckner said he preferred southern Europe because he liked the warm weather and said he would go back there.

He did not say which country. He had a VW Transporter van and parked it next to the allotment and lived in the vehicle.

The van was registered in Hannover but Brueckner had not paid the tax on the vehicle.

I asked Bruecker what he did for a job. He said he was a car mechanic. I asked him why he didn't repair his own van because it was always leaking diesel onto the ground. He said he would get around to it sometime.

I feel so sorry for the parents of Madeleine McCann. I hope they can find out what happened to their daughter.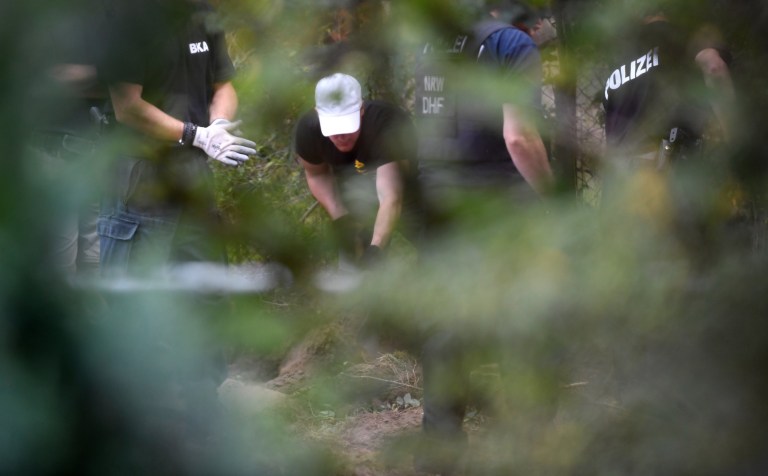 Well, that's all very suspicious isn't it and Brueckner certainly fits the profile of someone who might kidnap a young girl, but that doesn't necessarily mean that it was him. It doesn't sound like he's talking either, so we might never find out exactly what happened to her. Can imagine a guy like that would rather die with his secrets then reveal them, especially if it means he held the power over the whole world because of it.
As for this secret basement, it certainly adds more evidence that Brueckner might be involved in something nefarious, but given his history that doesn't necessarily mean it has anything to do with Madeleine McCann. Hate to get to grim about this but any number of people/children could have been held in there aside from Madeleine.
Hoping that the authorities do find some DNA evidence or something in there and this mystery can finally be put to rest in the coming days. We all deserve it.
For more of the same, check out this conspiracy theory thread about Madeleine McCann. So much going on with that one.