The beef between Eminem and Machine Gun Kelly has been pretty much everywhere this past week, but I haven't really talked about it that much because I don't really know who Machine Gun Kelly is.
Featured Image VIA
Anyway, I felt like this video was worth getting involved with the whole thing because it's pretty goddamn funny, even if I still don't really know anything about Machine Gun Kelly. The dude was supporting Fallout Boy yesterday at the Amway Center in Orlando when he decided to play the song he wrote dissing Eminem – aptly entitled Rap Devil I believe – and let me tell you, it did no go down well as he was pretty much booed off the stage and you couldn't even hear him rap the song. Ouch.
Yeah I mean that does kinda sound a bit like the boos might be overdubbed when he starts singing, but even before that it seems pretty clear that most people in the arena aren't down with him at all so I wouldn't be surprised in the slightest if it it was real.
But a bigger question is that is it really that surprising for the guy that something like this would happen? Eminem is super popular and it makes sense that the kind of people that enjoy Fallout Boy would love Eminem too because they're both two of the most mainstream 'alternative' acts out there right now, so did he really think this was going to go down well? Guy has no brain, especially when you factor in the social media responses to both of their diss tracks.
It actually managed to get even worse for MGK too as he posted the following on his Instagram account, trying to make out like everyone in the crowd was against Eminem as well as him. Well, it only went from bad to worse when a bunch of Fallout Boy fans decided to post on it to reveal what really happened:
https://www.instagram.com/p/Bnz1w20FOeq/?utm_source=ig_embed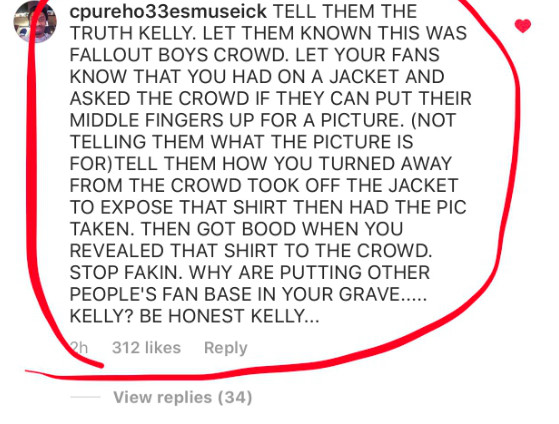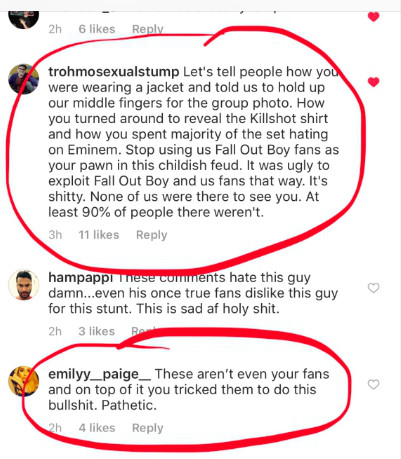 Damn. I guess there's only gonna be one winner of this war and it looks like it's one of the most definitive ass kickings of all time considering Eminem's Killshot disstrack is the biggest ever hip hop debut EVER on YouTube. Yeah, EVER. Dunno how MGK is gonna compete with that but looking forward to some of his pathetic efforts coming up in the next week or so. Good luck pal.
For more Eminem, check out this guy doing an impression of Eminem rapping, Uncanny.