As if shooting car insurance adverts wasn't bad enough for Lindsay Lohan, it looks like she might be heading for jail along with Chris Brown.
Back in 2012 after she was charged with reckless driving after she slammed into an 18 wheeler semi on the Pacific Coast Highway, a judge ordered her to complete 240 hours of community service. She was supposed to present evidence of this being completed on November 6th last year but her lawyer could only produce evidence that she had produced almost half of the hours required. That's pretty lazy of her, I'm sure you'll agree because it's only thirty days of hard work over a two year period – she could easily do two a month and have more than enough time to do whatever else she does (partying).
The judge was pretty lenient on her and ordered another date to be set to allow her to complete the rest of it – that date is next Wednesday and it turns out that she's still nowhere near her target. Lindsay plans on arguing that she couldn't complete the time because the centre was closed over the Christmas period for two weeks (yeah good excuse mate) and that she picked up a mosquito virus that laid her low whilst she was shooting a car insurance advert in Bora Bora and having a little bit of a holiday. I'm sure that will fly well with the judge when he learns that she went on a working holiday instead of putting in the time required of her.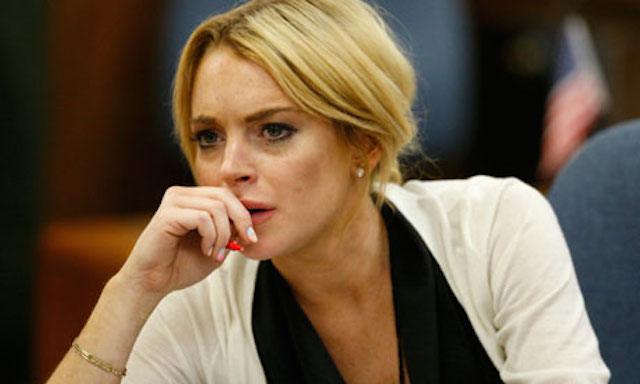 Not helping Lindsay's plight is that she has a history of bad behaviour in regards to the court and not following their orders:
2009 … Lindsay failed to complete her alcohol ed program
2010 … Bench warrant issued after Lindsay was a no show, claiming she was in Cannes and her passport was stolen
2010 … Bench warrant issued after her SCRAM bracelet went off at the MTV Music Awards after party
2010 … Lindsay failed to complete her alcohol ed program
2010 … Lindsay allegedly beats up a woman at Betty Ford
2010 … Probation revoked after cocaine found in her system
2013 … Late to court after missing a flight
It seems unlikely that the judge will be lenient again and it's being heard that the prosecutor is angling for jail time so that Lindsay will finally get her act together. We can only pray that this is the case, as will the men of Hollywood no doubt as there will be no more chances for her to sleep with them. Unfortunately, as happens with most celebrities she'll probably get away with a slap on the wrists.