Lidl is well known for selling absolutely awesome products for rock bottom prices, but this cowboy steak could be the best offer they've ever come up with.
Images VIA
In case you're unfamiliar with the concept, a cowboy steak is a bone in ribeye steak with a short frenched bone that's dry aged on the bone for 14 days and then matured further until it's 21 days old, giving it more of that fuller flavour. Mmm mmm.
Of course, that doesn't sound that special straight away does it as people are always saying similar things about their steak, but it's when you get to the price that you're going to be blown away. The 1.1kg steak is only going to set you back £14.99 and compared to your local butcher that's a hell of a bargain – it would normally cost you £22 there. If you still think that's a bit pricey, bear in mind that the chop of meat will probably keep you going for around a week and you'll start realising just why it's one of the deals of the year right there.
Richard Bourns from Lidl said the following about the Deluxe Cowboy Steak: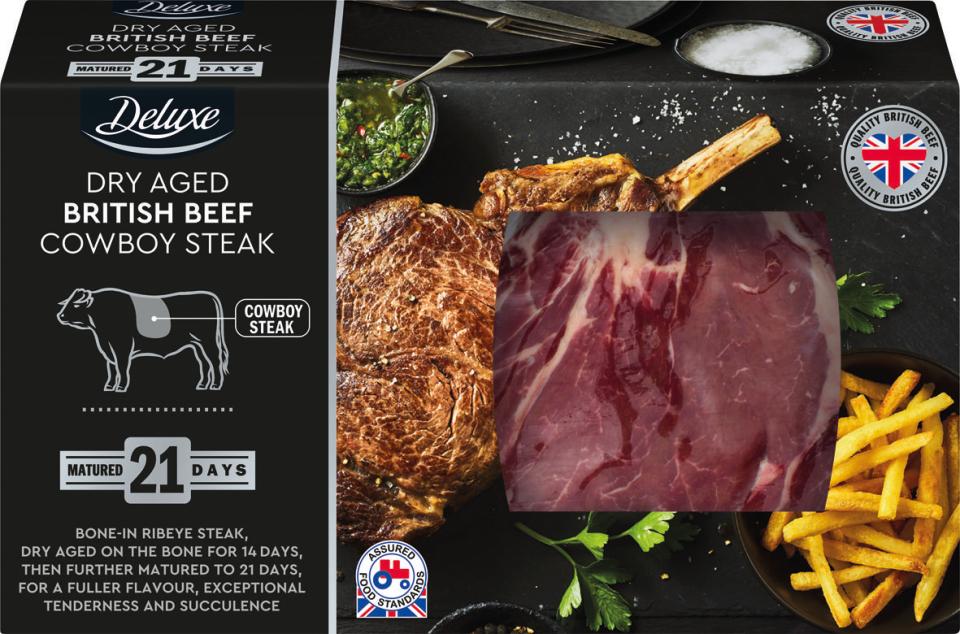 We are committed to providing our customers with the best quality meat at market leading prices.

All our beef is British and assured to the high welfare standards of the Red Tractor quality assurance scheme, ensuring our meat is not only of the highest quality, but fully traceable from British farms to fork.

Our premium Deluxe steaks continue to be extremely popular with customers and we're sure our Deluxe Cowboy Steak will not disappoint.
If you were heading out to pick up the cowboy steak tonight though, you might want to make other plans as it's not going to be released at Lidl until this Thursday, March 29th. You probably wanna just camp up there ASAP to be honest as they're only going to be available whilst stocks last and I can see this one flying off the shelves in no time at all. Don't sleep on it.
For more steaks, check out this restaurant who are offering a free 96oz steak – you've just gotta finish it first. Good luck.