I think everyone's accepted that the Oasis reunion is nothing but a pipe dream at this point, and it seems like every time either Liam or Noel says something about each other it adds another few years to any potential reunion date.
Featured Image VIA
Well 52-year-old Noel recently announced that he's taking a break from music to 'get away from it for a bit'. He also shared his thoughts with Guitar.com on the new generation of Oasis fans who are just now discovering the band's music.
The thing is, there's a generation now, between 15 and 18 years old, that have just got into the Oasis thing.

They've never heard most of what I've done, that's for sure. But really, they have no idea what was going on before.

So for those little pricks, I'll take great pleasure in ruining their days.
Damn Noel, tell us how you really feel!
Well younger bro Liam, 47, got wind of the comments and safe to say he wasn't happy about them. He Tweeted this morning: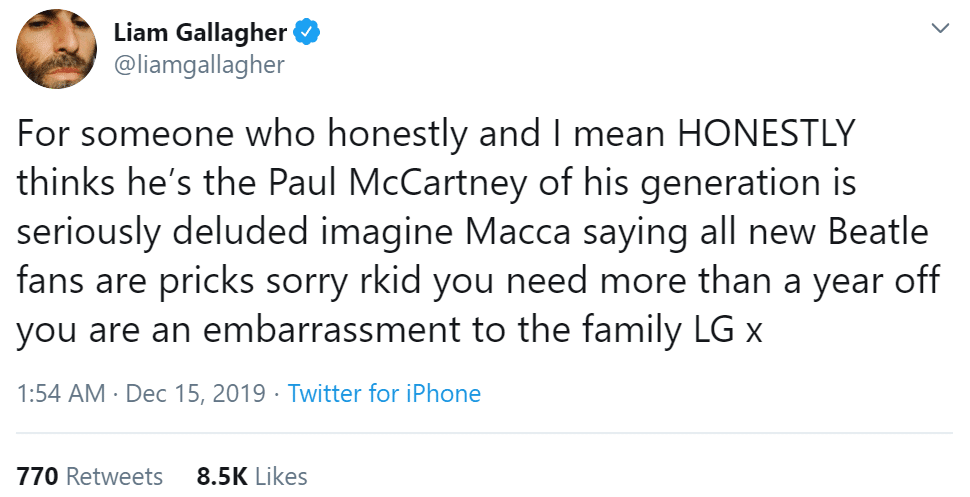 He later added:

So there you have it. Nothing but pure brotherly hatred spewed back and forth over the last 10+ years. Makes any chance of the greatest rock and roll band of all time reuniting for one last run look bleak. Then again, everybody has a price, so who knows?
Anyway, we can dream.
To hear Liam Gallagher tell the story of the time he snorted his own skin to see if he could get high from it, click HERE. Rock and roll indeed.