Everyone knows that the catalyst to the Kardashians becoming the most famous family on the planet was Kim's sex tape with R&B singer Ray J, filmed in 2003 and released online in 2007.
Well, in new book 'Kardashian Dynasty' by Ian Halperi, a source in the 'adult film industry' explains:
A mutual friend of Kim and Paris [Hilton] had advised her that if she wanted to achieve fame, a sex tape would be the way to go . . . Kim had discussed the idea of producing a tape with her family beforehand.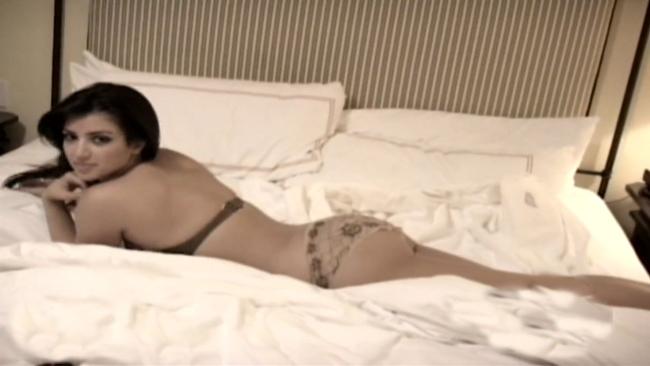 A former friend of Kim also told Harpin:
It was Kris who engineered the deal behind the scenes and was responsible for the tape seeing the light of day.
Halperin then pretended to be a porn peddler selling another celebrity sex tape so he could speak to Vivid execs in person, who he says told him:
When it comes to . . . selling a sex tape, both parties need to sign off.
When asked how Kim's tape got out, the exec replied:
A third party brought it to Vivid . . . [We] got in touch with the Kardashian family. [We told them] why not work for us, and we'll make sure that the tape will not only get out, but that it will be distributed the way you want. You'll get a nice payment for it. I can tell you right now. Kim Kardashian's movie came out in '07, and she's made millions.
Everybody kinda knew this already, right? I mean Kris Jenner is the greatest, most relentless pimp of all time. That's why people are writing books about her called 'Kardashian Dynasty'. She's an absolute master at selling her daughters/family to the public, and signing off on Kim's sex tape is where it all began. Perhaps an even better signing than Welbeck to Arsenal.
Was Kris Jenner behind the actual camera when her daughter was getting railed? No, but she found out Vivid were going to release the sex tape so she got her pimp hat on and made the most of it. Gave the blessing for her daughter's vagina to be leaked all over the Internet and made an entire career and media dynasty out of it. Only in America.