There's A LOT of arguing over masks these days and whether they are effective and if we should be legally required to wear them in certain places, and it's got to the point where your position on the matter reflects your character, politics and morality (according to some).
Featured Image VIA
Well over in Knox County, Tennessee, the Knox County Board of Health voted 7-1 this week in favour of making masks required for anyone inside certain buildings of the city. Hilariously, the only 'No' vote was cast by former mask-wearing WWE legend Kane AKA current Knox County mayor Glenn Jacobs.
BREAKING: Knox County Board of Health votes 7-1 to mandate a mask ordinance for anyone inside certain buildings.

Mayor Jacobs is the only nay.

Board will re-evaluate the order at its next meeting.

— Zack Rickens (@ZackRickensTV) July 1, 2020
Live look at Kane casting his vote: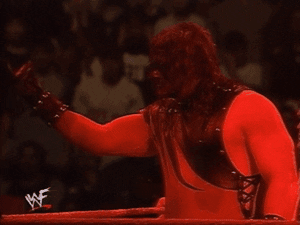 I guess Kane wore a mask for so long during his career that he's now sick of it? What's even more ironic is WWE have been selling Kane-themed coronavirus masks – lol.
Earlier this year, Kane hit out at safety measures put in place to ensure social distancing and limit the spread of COVID-19, saying the government shouldn't 'tell people what to do':
We talk about public safety, but the issue is that when the government says "Something is an emergency, and we can do anything."

Then all that has to happen is, you have an emergency. And that's extremely troubling to me and it should be challenged by the people as well.

[They] decided that they have to tell people what to do and that's not their job. And frankly, I don't think that they have that authority.
Personally I think if doctors with much bigger brains than me and years of medical experience behind them say I should wear a mask, then it's probably a good idea to wear a mask. Not just for my health, but the health of others and the health of all the footballers who we need to keep us entertained and not be put into another lockdown for the 20/21 season.
Like I said though, can't blame Kane for voting against it after sweating his face off for 20+ years wearing a really uncomfortable-looking leather face mask while doing battle with his brother The Undertaker. So while I don't agree with him, I 100% understand.
Never understand:
For a look back at Kane's shocking WWE debut during the first ever Hell In A Cell match back in 1997, click HERE.