I've never really got the whole wearing merchandise of your favourite major fast food corporation before, but people seem to love it as these places keep releasing dumber and dumber merch all the time.
Images VIA
The latest item in a long line of trash are these new crocs from KFC that literally look like giant buckets of chicken. They've been created in collaboration with ad agency Weiden + Kennedy and are set to make their debut at New York Fashion Week at the end of the month.
The crocs also come with Jibbitz – these are little clip ons that smell like KFC and therefore make your feet smell like KFC. Very useful, I'm sure you'll agree, but I guess if you're gonna do something stupid then you might as well go the whole hog with it hey?
Terrence Reilly, Crocs SVP and CMO, said the following about the launch: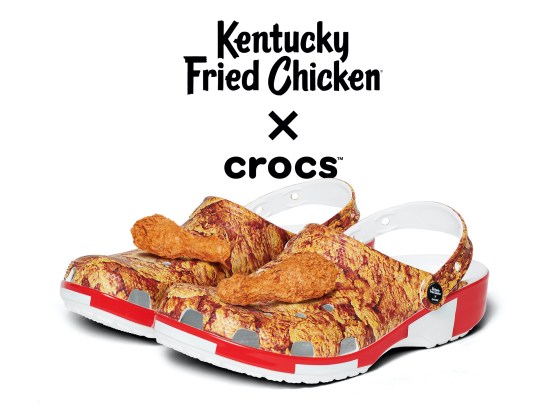 As Crocs continues to create new, unexpected brand collaborations, we're thrilled with this 'bucket list' partnership with Kentucky Fried Chicken that will bring fans an unbelievably fun and fashionable take on our classic clog.

We're honored to feature this fashion-forward style between two iconic American brands at one of New York's biggest weeks in fashion that promises to surprise and delight consumers around the globe.
I mean whatever dude, it's awful and you know it. Although I suppose if you work for Crocs voluntarily then you're gonna have really bad taste in the first place aren't you?
This is usually the part of an article like this where I write that they're not actually real and it was all a cynical marketing ploy, but it turns out these are actually real and you can buy them in short or high tops off the Crocs website right now for $60. What are you waiting for?
For more Crocs, check out this guy editing himself into the end of 'Se7en' with some Crocs. Major lol.