A lot of brands seem to be capitalising on how shit 2020 has been for the majority of us by wheeling out free offers at the end of the year for Christmas and the latest one of these is KFC, who have revealed that they'll be giving away free gravy until January.
Images VIA 
However, as with McDonald's free cheeseburgers this week there's a catch and it involves you downloading the KFC app to your mobile phone. Here's the official press release about the promotion: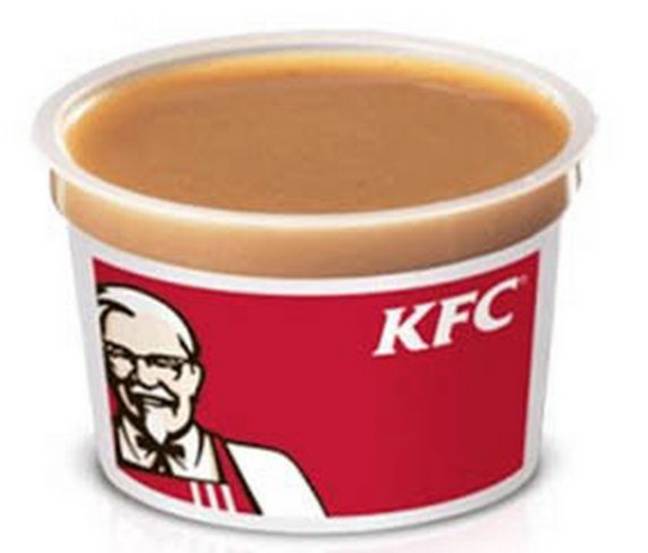 Nothing makes the festive season quite like a bit of gravy, and Christmas is in full swing over here at KFC HQ.

So, what better way to spread the festive cheer than by giving away free pots of the good stuff.

Whether you're looking to dunk, drizzle or drench, we guarantee this'll put a festive pep in your step and get your tail feathers shaking.

All you gotta do to get involved is select 'add on a free Regular Gravy' to your order on the KFC mobile app, available for takeaway and drive-thru.

That's all folks, the Colonel's got you covered (in gravy).
I suppose it isn't that much of a catch to have to order a meal to go along with your gravy – nobody just wants to have a pot of free gravy do they, especially if they have to go to KFC to pick it up and see all the delicious chicken they could be getting as well – but having the app on your phone is how they get you. That thing is gonna be sending you alerts all the time and tempting you with its chicken deals every time you even walk near a KFC, so just make sure you're ready to deal with that if you take them up on the offer. You've been warned.
For more of the same, check out when someone cooked pasta with gravy earlier this year. What the hell is all that about?