For years and years, people from the UK have heard whispers about the legendary KFC Double Down in their locations abroad in the US, South Korea and Australia, but I don't think any of us ever thought that we would see the day that it finally touched down in this country, despite countless calls for it to do so over the years.
Images VIA
Let it never be said that protests don't make a difference though because KFC today have finally announced that the Double Down will indeed be coming to the UK and it's launching in less than a week – next Monday to be precise. If you've never heard of the Double Down then honestly where have you been, but in case you haven't it's pretty much the idea behind a burger but without a bun and two pieces of chicken instead. The filling is made up of cheese, bacon and BBQ sauce. Mmmmm.
Here's what the press release about it says: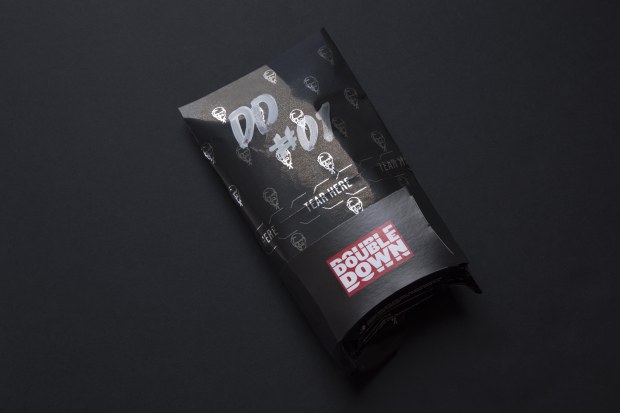 There's been so much excitement for the Double Down since it first launched to the US in 2010.

It's sold out in every country that it's been released in, so we're anticipating it'll be a sell-out success here in the UK.

Fandom has gone wild over the past few years on social media, and we've even had reports of our customers taking things into their own hands by hacking the menu to create the sandwich. It seems people agree with us…there's nothing better than an Original Recipe fillet, so if you can't beat it – double it!
Yeah no shit – it's only taken you seven goddamn years to sort it out over here. Still, all good things come to those who wait and we can't wait to try it when it finally hits our shores next week. It'll set you back £4.79 for the Double Down on its own, or £5.79 with fries and a drink, which is pretty damn reasonable if you ask me.
There is some bad news about the Double Down's introduction to the UK though – it's only going to be available for six weeks. Better make it quick, although I imagine this is going to be so successful the Double Down will be on the official menu in no time at all. It had better be anyway.
For the next KFC menu item that needs to come out over here, check out the Pizza Double Down. It can be done.